Roger Partridge: Selected Works, 3 June – 29 July 2017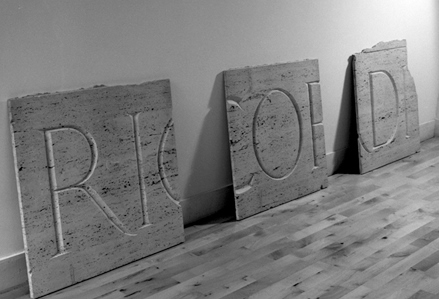 LAUNCH EVENT: Saturday 3 June, 4-6pm
Roger Partridge: Selected Works is a retrospective exhibition of works displayed around the house and garden. The exhibition will launch on Saturday 3 June in conjunction with the 2017 Kingston School of Art Degree Show.
Roger Partridge (1959-2015) studied sculpture at Camberwell School of Art 1979-81 and at The Slade School 1981-83. He was awarded the Rome Scholarship in 1983-5. Following the Rome Scholarship, he stayed in Italy, moving to Florence and working in the marble workshops of Pietrasanta. He returned to London in 1989, where he lived and worked. In 2002 he became an associate member of the Royal British Society of Sculptors and was elected Fellow in 2010. He worked latterly as a Technician at Kingston University's Faculty of Art, Design and Architecture.
His work has been exhibited in Europe, America and the UK, including the Hayward Gallery (The Sculpture Show 1983) and the Royal Academy (Summer Exhibition 2006) and is in private collections in Italy, France, America, the Middle East and England.
See further examples of his work here.
Above Image: Ricordi, Travertine Marble, 3.2m, 1993