Russian porcelain plate c. 1920s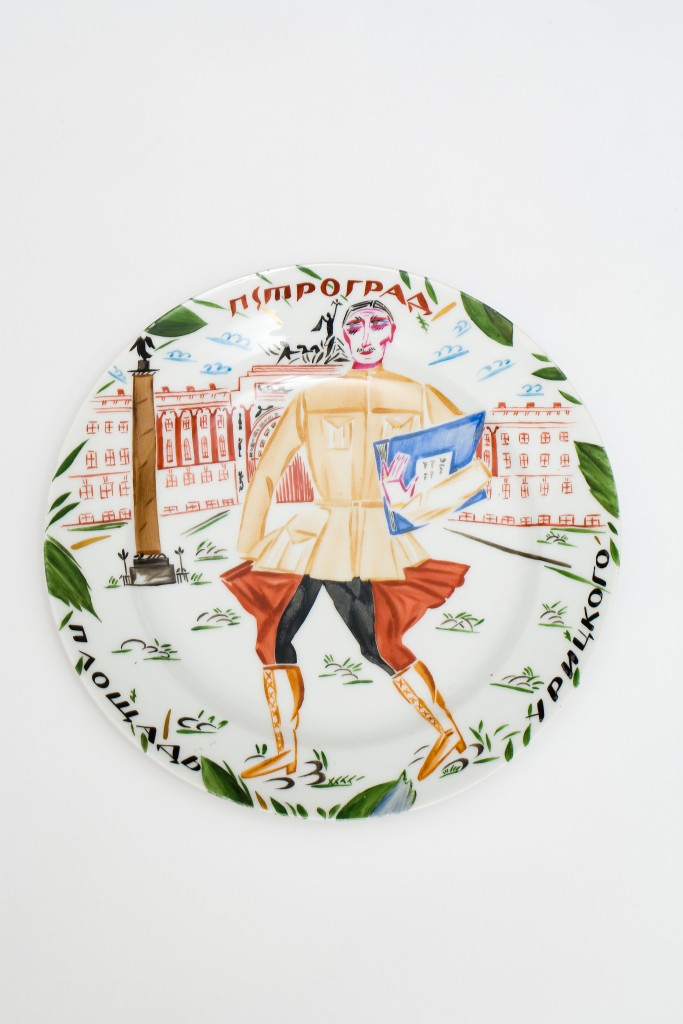 Founded in the 18th century, the Imperial Porcelain Factory in St Petersburg produced luxury objects for the Imperial Russian court. After the Revolution of October 1917 and the fall of Imperial rule, the leader of the Bolsheviks, Vladimir Lenin, was proclaimed Russia's new ruler. Lenin saw the potential of art as propaganda and a unique opportunity for this came when the new regime took over the Imperial Porcelain Factory. The Imperial Porcelain Factory held a large stock of blank porcelain items awaiting future orders and decoration. These blank tableware items were painted with Revolutionary slogans and sold as a means of promoting Revolutionary ideals and raising funds for the new government. The Imperial marks were initially covered over with paint but from 1921 they were left untouched and appear alongside the new mark of the State Porcelain Factory.
The design on this plate is by the artist Alexandra Shchekotikhina-Pototskaya, who joined the State Porcelain Factory's Art Department in 1918. Her work is characterised by bold use of bright colours and typically includes subjects drawn from folklore and traditional rural life. This example of an Imperial Porcelain Factory plate with a revolutionary design depicts a commissar of the Cheka, the early Soviet secret police, as he crosses Uritsky Square in St. Petersburg (Petrograd).