80th Anniversary House-Warming Celebrations with Hilary Lloyd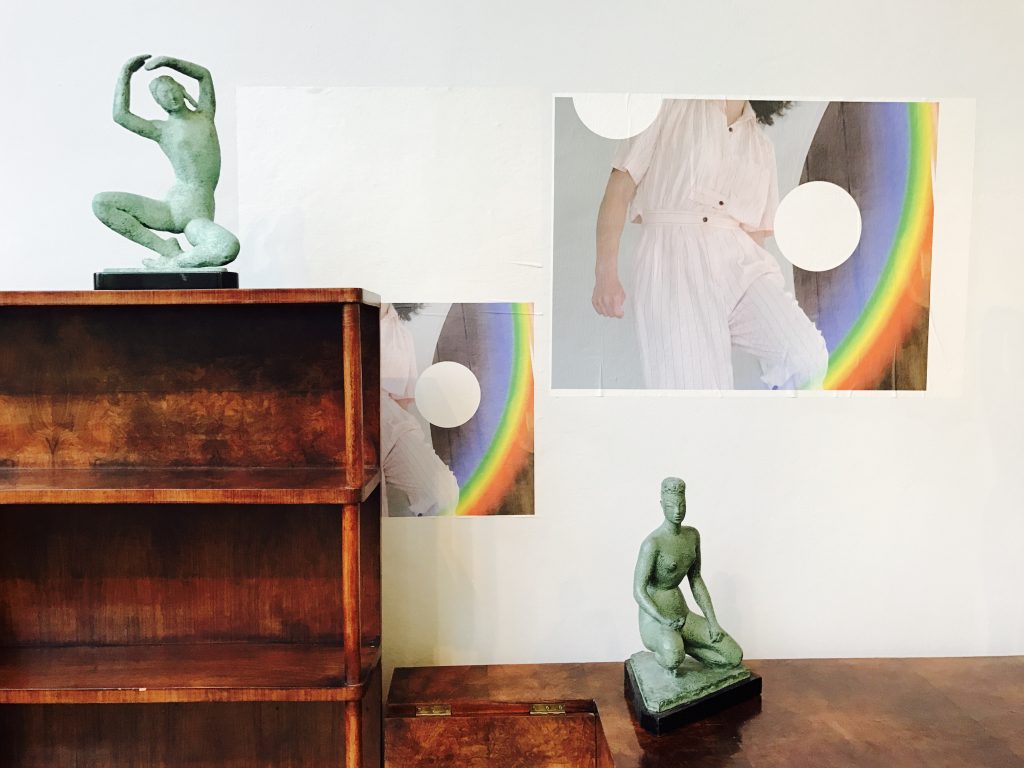 80TH ANNIVERSARY HOUSE-WARMING CELEBRATIONS WITH HILARY LLOYD
Following their marriage at Chelsea Registry Office on 6 November 1936, Dora Gordine and her husband Richard Hare moved into Dorich House, the modern studio-home she had designed for them a 'deer's leap' from Richmond Park. It was to be their home and shared workplace for the rest of their lives.
Our most reliable records show that Dora Gordine was 96 years old when she died at Dorich House in 1991. The House, already in a state of disrepair, was left with no immediately clear future, and in the intervening years between Gordine's death and Kingston University restoring the property, Dorich House is said to have been occupied by squatters, becoming an illicit site for 90s 'rave' parties, and was later the setting for film director Nicolas Roeg's "Two Deaths" (BBC 1995).
Visiting the property over the course of her current Fellowship at Dorich House Museum, artist Hilary Lloyd has spent time intently absorbing the atmosphere of the architecture, interiors and the surrounding environment, as drawn to these alternative and anecdotal legacies of the House as to the biographical history of Gordine and Hare's own residency.
Over the Summer of 2016, Lloyd worked with non-professional actors in the House and grounds to make a new film that hangs loosely around a casual script devised by the artist. Lloyd's completed Fellowship commission will be launched at Dorich House Museum on 8 March 2017, with a film trailer and poster released in advance to coincide with an 80th Anniversary House-Warming event staged at Dorich House in November 2016.
Hilary Lloyd's work centres on film and video, while engaging with sculpture, painting and installation. She lives and works in London. She has exhibited internationally, with solo exhibitions including Blaffer Art Museum, Houston (2016); Robot, Sadie Coles HQ, London (2015); Balfour, Sadie Coles HQ, London (2015); Museum für Gegenwartskunst, Basel (2012, accompanied by a catalogue); Artists Space, New York (2011); Raven Row, London (2010); Tramway, Glasgow (2009); Le Consortium, Dijon (2009); Kunstverein München, Munich (2006); Waiters, Henry Moore Foundation Contemporary Projects, Venice Biennale (2003); Kino der Dekonstruktion, Frankfurter Kunstverein, Frankfurt (2000); and Chisenhale Gallery, London (1999).
Lloyd was nominated for the 2011 Turner Prize for her exhibition of 2010 at Raven Row, London. Last year she was given The Bryan Robertson Trust Award. Forthcoming solo exhibitions include Dorich House Museum, Kingston University, UK; Temple Bar Gallery, Dublin, Ireland; Focal Point, Southend-on-Sea, UK; Greene Naftali, NY, USA and 356 S. Mission Road, L.A., USA.
Hilary Lloyd is represented by Galerie Neu, Berlin; Greene Naftali, New York; Sadie Coles HQ, London.
Find out more information on the Dorich House Fellowship
Above image and film below: Hilary Lloyd Trailer (2016) digital film, fly-posted digital prints on newsprint, is currently on display in the Modelling Studio.
Hilary Lloyd Trailer (2016) from Dorich House Museum on Vimeo.