Russian folk art chair, designed by Vasily Petrovich Shutov (c.1870s)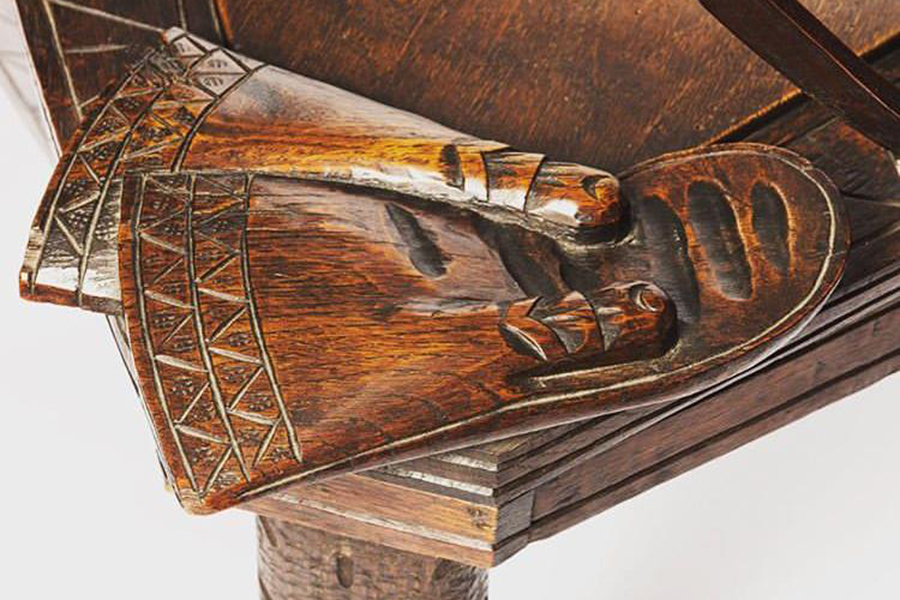 RUSSIAN FOLK ART CHAIR, C.1870s, DESIGNED BY VASILY PETROVICH SHUTOV
Over the coming weeks, while both Dorich House Museum and our partner venue Stanley Picker Gallery are temporarily closed, our teams will be sharing a weekly newsletter with recent projects, collection items and activity suggestions to keep you inspired and creative at home. The theme of today's newsletter, Thursday 26 March is unusual perspectives on everyday domestic objects.
Over the course of their marriage, the artist Dora Gordine and her husband the Hon. Richard Hare, a scholar of Russian art and literature, assembled a significant collection of Russian art and artefacts, including furniture, ceramics and glassware.
One of the items in Dorich House Museum's Russian Collection is an 1870s Russian folk art chair carved from oak, designed by Vasily Petrovich Shutov. The back rail and four legs are carved with traditional patterns, with an inscription of a proverb which in English translates to "the quieter you go, the further you'll get". The armrests are in the form of axes, the back rest in the form of a troika harness, and a pair of coachman's gloves rest on the triangular seat, the detail of which can be seen in the image above. Click here to see an image of the whole chair.
Highlights of Dorich House Museum's Gordine and Russian Collections can be viewed online in the Collections section of our website.
View this week's newsletter online here and visit the Stanley Picker Gallery website to subscribe.