Communities | The Surbiton Yatai, Temple and Pavilion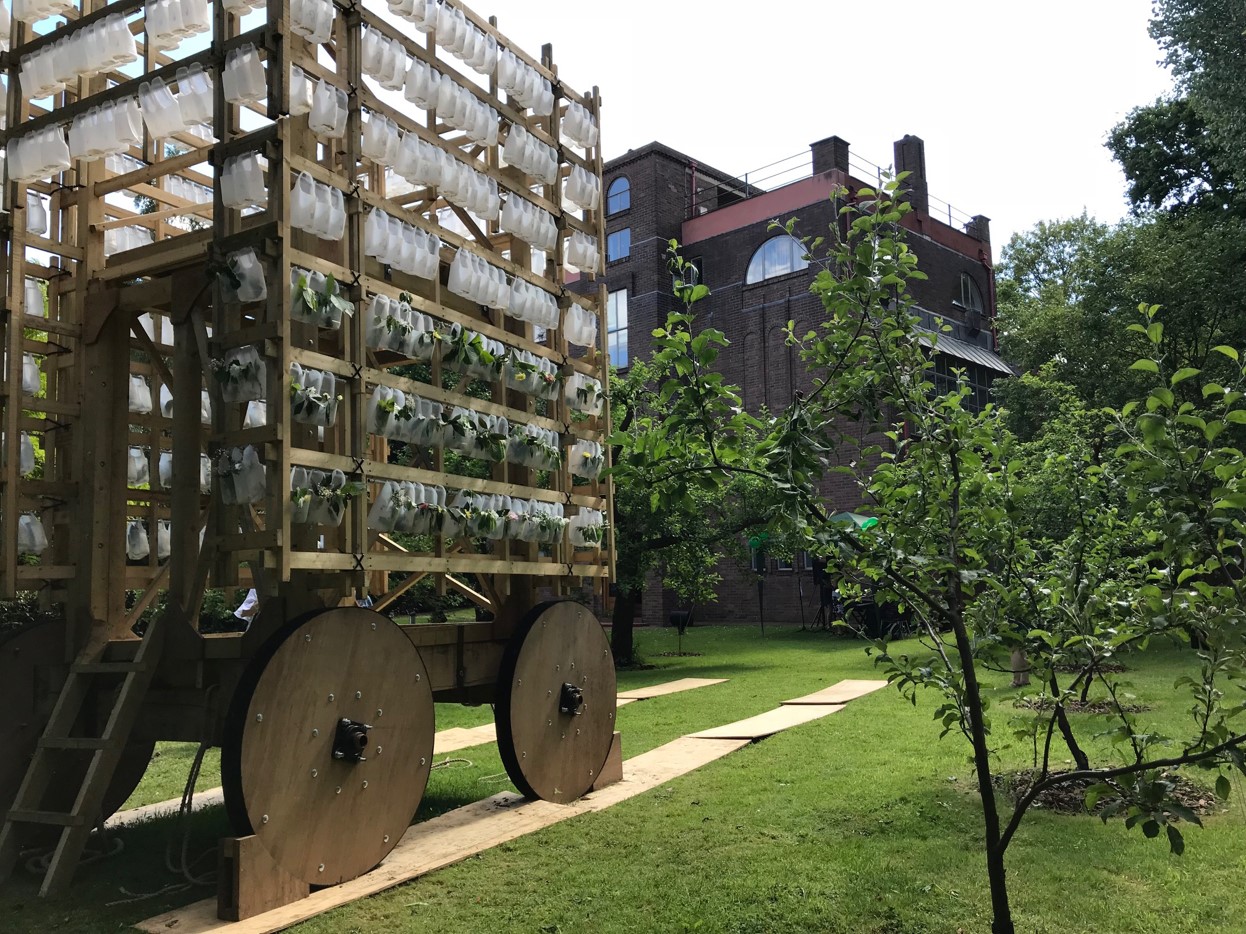 Whilst we are temporarily closed to the public, we are working with our partner venue Stanley Picker Gallery to compile a weekly newsletter highlighting previous projects, collection items and activity suggestions to keep you inspired and creative at home. The theme for today's newsletter, Thursday 5 June is Communities.
In the Summer of 2018, Unit 5, a postgraduate architecture studio led by the tutors Takeshi Hayatsu and Jim Reed at Kingston University worked with local group The Community Brain to create a large mobile wooden structure, the Surbiton Yatai. Surbiton Yatai was exhibited in the Dorich House Museum garden as part of the museum's annual Summer Garden Party in 2018, coinciding with the Kingston School of Art end of year graduate show. The installation at Dorich House Museum was also part of London Festival of Architecture.
Yatai is a 5 metre tall, four wheeled timber structure, weighing nearly two tonnes. It was fabricated by students utilising the Kingston University 3D Workshop and designed to be pulled by the community at the annual Seething Festival to signal the start and the end of the street parade. The Yatai incorporates 420 recycled milk bottles on its outer cladding, creating pockets for displaying wild flowers and herbs. It acts as a mobile seed bank, promoting the idea of sustainable growth. The project strengthens links between Kingston University and the Surbiton community, providing an identifiable local landmark for community events. The design of the structure is inspired by the traditional Japanese festival float from Kuki Andon Matsuri festival in Kanagawa, Japan where a large prefabricated timber structure is assembled by the local people during their annual festival, celebrating the pride and spirit of the community. See the Yatai in motion in the Dorich House Museum garden here.
The project forms a part of the wider community regeneration project SHEDx, chosen by Mayor of London for their Good Growth Fund in 2018 and has since been transformed in Tolworth as a giant lantern – read more here. Our Participation Curator, Natalie Kay, who is currently on Maternity Leave, spotted the Yatai on a recent walk!
Kingston University postgraduate architecture students also created 1:1 pavilions in the Dorich House Museum garden in 2015 and 2016, both as part of London Festival of Architecture. The 2015 project, The Temple, created by students of studio 3.2* was a scale replica of a gateway to an ancient temple in Japan. In 2016, Unit 5 students created a pavilion derived from a multitude of precedents and inspirations encountered during study trips to Nagano and Tokyo, from a 16th century timber castle, to a self-built concrete house. Both student groups were led by tutors Takeshi Hayatsu and Simon Jones.
This week, Dorich House Museum chatted with Takeshi Hayatsu, Tutor, Department of Architecture and Landscape, Kingston University London this week. Takeshi commented:
"Between 2016 and 2018 the garden of Dorich House Museum provided a test bed for co-producing large scale building projects with students. It was a research experiment on how architecture and building process can be harnessed as a social act, and Kingston University to become a centre for local production. Since then we are expanding the methodology beyond university campus and working with the local community members for various live projects. We are thankful for the museum and would love to come back again in the near future for a new site specific project!"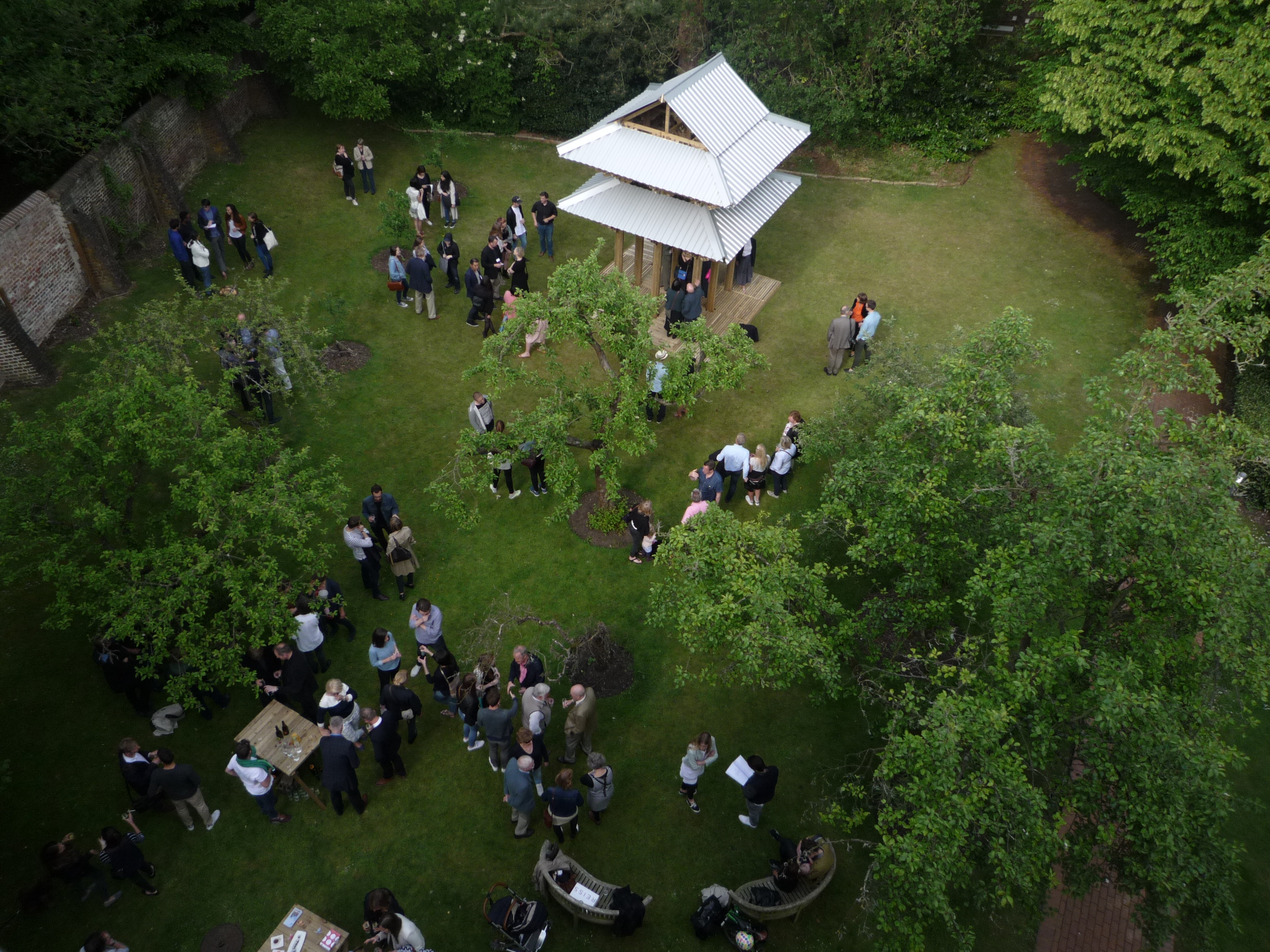 ---
Visit the Stanley Picker Gallery website to subscribe to receive weekly newsletters.