Culture of Food | Cooking with Dora Gordine
Whilst we are temporarily closed to the public, we are working with our partner venue Stanley Picker Gallery to compile a weekly newsletter highlighting previous projects, collection items and activity suggestions to keep you inspired and creative at home. The theme for today's newsletter, Thursday 30 July, is the Culture of Food in society and in our daily lives.
Growing, cooking, and sharing food was an important part of everyday life at Dorich House throughout Dora Gordine and the Hon. Richard Hare's marriage, reflecting Gordine's belief that hospitality was 'the most sacred part' of 'the art of living.' Some of the colourful paintings Gordine made in her lifetime included vibrant still life studies of food. Gordine's own cooking was influenced by her Russian heritage and her travels in Europe and Asia and she reportedly threw herself into the culinary culture of the places she visited. Guests at Dorich House might have found themselves eating anything from beetroot soup and buckwheat blinis to Gordine's apparently 'fabulous' Chinese food.
Other Dorich House favourites included home-made yoghurt with Apple cake, made with fruit from the garden. Built on the site of a former orchard, many of the apple, mulberry and pear trees that populated the Dorich House garden in Gordine's lifetime still stand. Gordine was also an enthusiast for natural foods and health, picking nettles and dandelions, among others, to make 'unusual' herbal remedies to serve to under-the-weather guests.
In addition to being a place of production and display, Dorich House provided a home where Gordine and Hare as a couple enjoyed a lively social life with friends from the diplomatic and artistic circles, neighbours and collectors of Russian art. While few photographic records exist of the original kitchen on the top floor, an article in The Lady in 1939 reported "A small but neatly fitted kitchen.. with a tradesman's lift by the front door bringing up supplies to the kitchen." From this kitchen, Gordine prepared meals to serve in the dining room. Dinner guests of the Hare's have recalled that Gordine would theatrically throw open the circular sliding moon doors between the living and dining room after dinner, as a way of steering the conversation toward the house and her art.
Documented in Sir Harry Luke's cookbook, The Tenth Muse, on display in the dining room at Dorich House Museum, is Gordine's recipe for 'Potage Dorich' credited by Luke to "The Hon. Mrs Richard Hare (Dora Gordine) of Dorich House, Kingston Vale, where H.C.L. was privileged to partake of this original, rich and exciting concoction as invented and prepared by his hostess. It proved her to be as brilliant a composer of dishes and cook as she is a sculptress."
Potage Dorich
Make of either smoked ham, smoked gammon, bacon rind, smoked sausages or the like a stock sufficiently strong to 'jelly' when cold, and flavour it with dried rosemary, bayleaf, turmeric and dill herb (or seeds) and with a touch of cinnamon, cardamom and mace. Cook for several hours until it 'jellies'. Take milk and water in equal parts, some brown sugar and a little more cinnamon, and boil up with some Jerusalem artichokes, stirring until the mixture becomes a puree. Add this puree to the stock and boil together for ½ hour. At the end squeeze the juice of a clove of garlic into the boiling soup and serve.
---
While we have been isolating at home recently, many of us have been cooking up a storm from home. Our Gallery and Museum team members have been attempting many of the home-cooking trends the recent lockdown has generated, including baking banana bread, cinnamon buns and sourdough.
This week, we are feeling inspired by the Russian Gingerbread mold pictured here, collected by Gordine and Hare as part of a significant collection of Russian art and artefacts, including furniture, ceramics and glassware.
Show us what dishes you have created at home in recent weeks! What recipes best represent your own cultural heritage? Tag us on Instagram @dorichhousemuseum or Twitter @dorichhouse or e-mail us at dorichhousemuseum@kingston.ac.uk.
---
Mandy Ure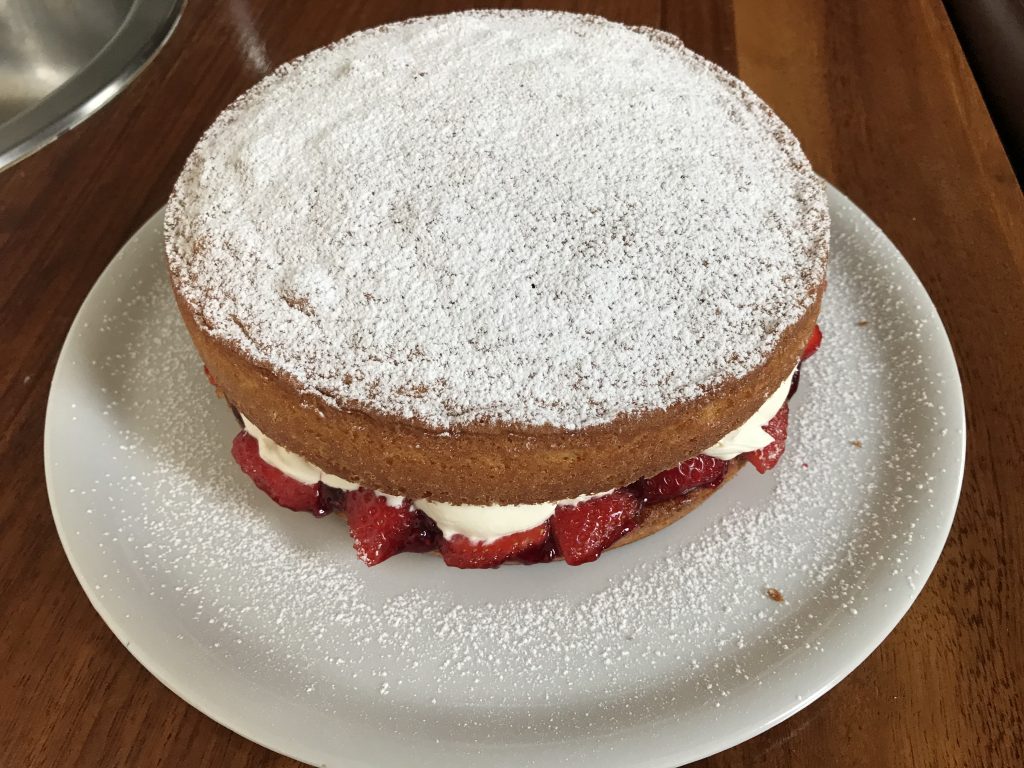 "Summery sponge – was actually as light as a feather!"
Louise Dear
Dorich House Museum Volunteer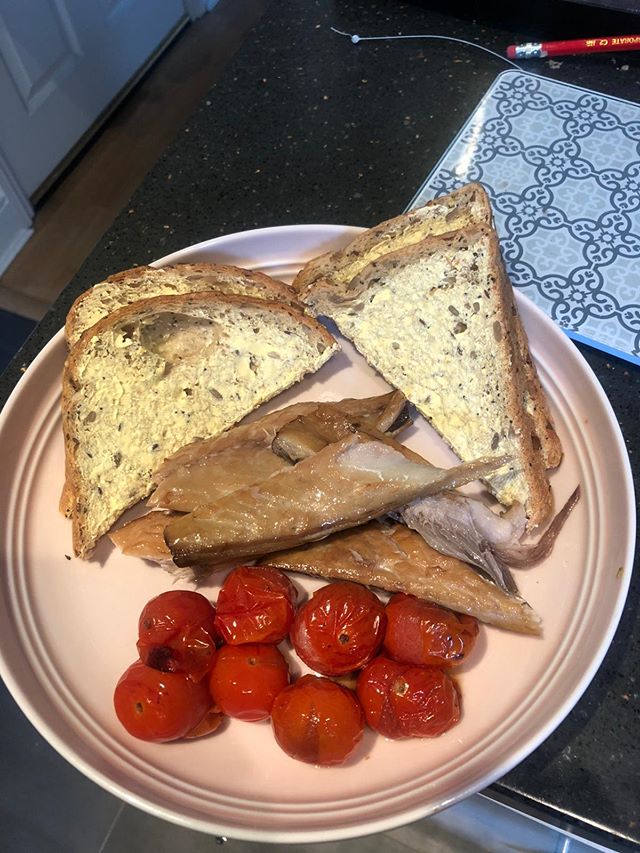 "Arbroath smokies, Kent tomatoes and Sussex sour dough with unsalted cornish butter – my heritage lunch today outside in a sunny English garden."
Toddy Hoare
"Favourite food can be as much impressed on the mind according to the setting, surroundings, and local fare. What I suggest below from continental settings are possible to reproduce at home. However to start with English fare I would suggest food for a colder climate than summer meals across the Channel. However whatever and wherever the meal a glass of champagne is a good starter, but Ouzo on the rocks in Greece.
Watercress Soup (since it used to be common in clean waterways and there is likely to be chicken stock to hand); scallops with smokey bacon with a Chablis type white wine; shin of beef stew* with mashed potato or cobbler and runner beans and a red wine; queen of puddings with raspberries from the garden previously made into a compote; blue ewe or goat cheese and port. Wines can be matched by our own home produced varieties.
*Trim the meat, render the fat and brown meat in it; melt onions adding herbs when soft and put in a casserole adding carrots just after boiling for a minute and browned meat; put carrot water in pan that had the meat to recover as stock, thicken, and add to casserole; butter beans make a good addition and chick peas if desired: bring all to boil then put in a low oven to simmer for a couple of hours, checking it does not dry out. If done as a cobbler these are better cooked separately and added when stew is served to avoid becoming soggy.
Thus take a typical French setting by the Seine; duck pate with crusty bread, chicory and truffle, some red wine; simple fish with fennel and a sauce, peas and artichokes must be the backbone of the meal with a chilled white wine on a hot day; selection of local cheese and some nuts; tarte with fruit in season (apricot, peach);  coffee & a brandy.
Travel south down to Greece where salad of tomato & cucumber with feta, olives & oil along with bread must be a starter. Again fish as a safe main with aubergine and courgette. A combination of honey, nuts, and yoghurt – baclava; all with a local red wine; coffee & a little something."
---
Visit the Stanley Picker Gallery website to subscribe to receive weekly newsletters.