The Crucifixion, early 19th century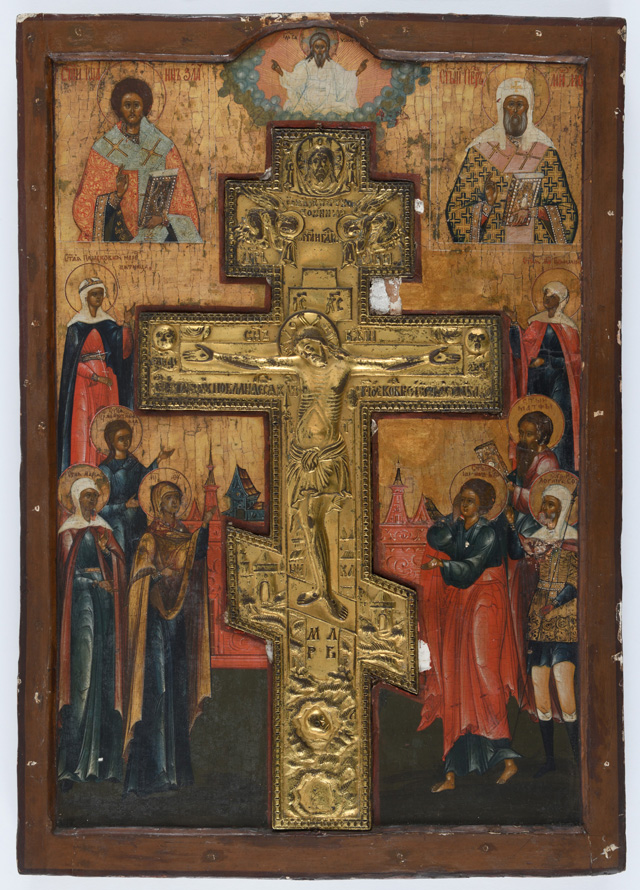 By Orthodox standards, this icon of the crucifixion has a relatively simple composition. To the bottom left are the three Marys: The Virgin, Mary Magdalene and Mary Cleopas. To the left, John the beloved disciple, a Roman legionary and Apostle Matthew. Above them, two female martyrs flank the arms of the cross, to the left Saint Paraskevi Pyatnitsi and to the left Saint Euphemia. Above them, Lord Sabaoth (the Orthodox representation of God the Father) sits between Saint John Chrysostom to his left and St Peter, Metropolitan of Moscow, to his right.
The bronze cross in the centre is typical of Old Believer crafts. Bronze crosses such as these originate in a period of reform by Patriarch Nikon under Tsar Alexei Mikhailovich in the second half of the 17th century. These reforms led to a schism in the church. The Old Believers fled into rural Russia to continue their traditional forms of worship and founded a monastery at Vyg where they began to produce metal icons on a large scale. The monastery was suppressed during the reign of Emperor Nicholas I. Even so, the high-quality metalwork produced at the monastery inspired many replicas, especially in surviving centres of Old Believer crafts.