Nadia Hebson: 'Light enters my eye when I speak as a building'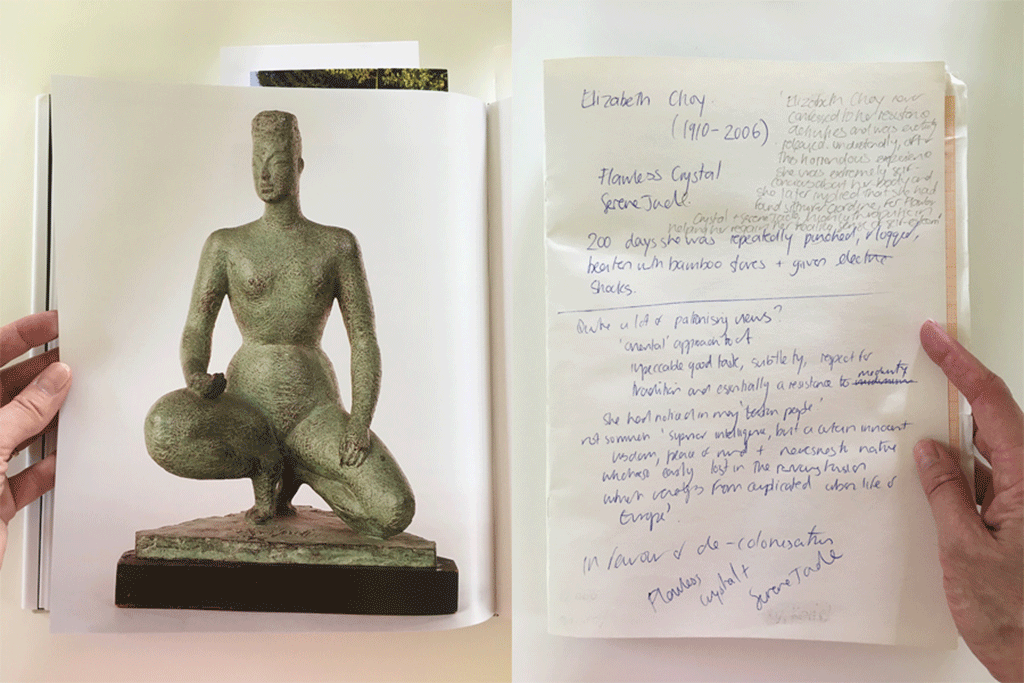 We are pleased to announce the ninth contribution to Dora: Dialogues on Women's Creative Practice and Thinking, 'Light enters my eye when I speak as a building' from our current Studio Resident Nadia Hebson.
"An ellipse of light enters one of my eight semicircular eyes, hazed through the branches of the park's established oaks. Mornings get tangled up in this treetop eyrie that from the other side obscures certain elevations making my sudden appearance into view a surprise for the casual walker. I am an enigma, slippery in forms of taste that you would need real taste to appreciate – the subtlety, measured reserve that says so much in its restraint…"
Working obliquely with the legacy of women artists, Nadia Hebson has sought to comprehend the relationship between painting, biography, persona and clothing. Hebson's practice spans the mediums of painting, sculpture, and relief and text which can be subjective, poetic, or academic in tone. As part of the Dorich House Museum Studio Residency, in addition to this contribution, Hebson has hosted a series of virtual reading groups and plans to return to the museum in 2021.
Dora: Dialogues in Women's Creative Practice and Thinking is a collaboration between Dorich House Museum and research centres within Kingston School of Art at Kingston University. Inspired by and reflecting upon Gordine's personal and professional legacy, this volume aims to provide an intellectual space for framing and disseminating ideas, images and words that consider the breadth of women's creative practice, and a platform from which to generate an open dialogue within an international context.
Papers for the volume are released in a loosely curated series, both physically and online, allowing the content to accumulate through the contributions of individual researchers and collaborative partnerships as these emerge and develop over time.
The physical publication is available for purchase directly from the museum and via the Art UK Online Shop, and PDFs are free to download here. Please sign up to our mailing list if you would like to be informed of future releases of Dora: Dialogues in Women's Creative Practice and Thinking.