Stars at Auction: Exploring the Sales of Dora Gordine and Richard Hare's Private Art Collection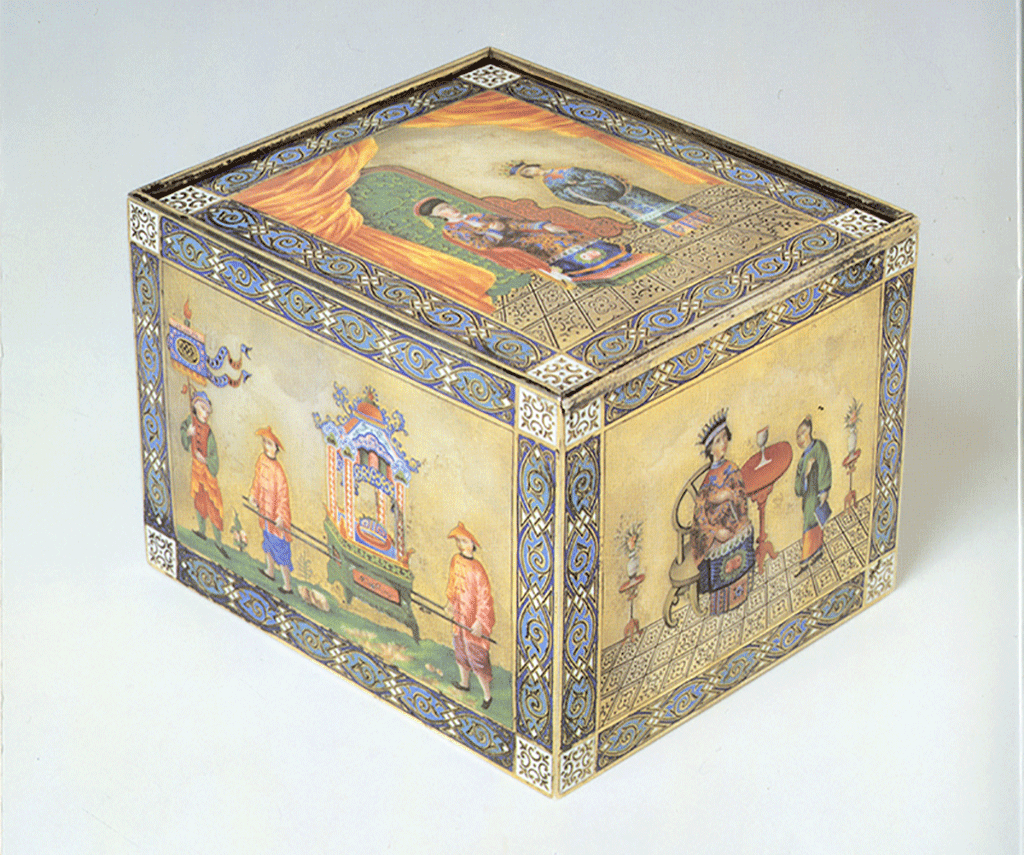 What were the star buys at the two major auctions in November 1994 of Dora Gordine and Richard Hare's collection of Russian silver, art and artefacts? Here volunteer Alison McGregor tells the story of these two auctions and the amazing items that were sold to raise funds to renovate Dorich House, the couple's former home.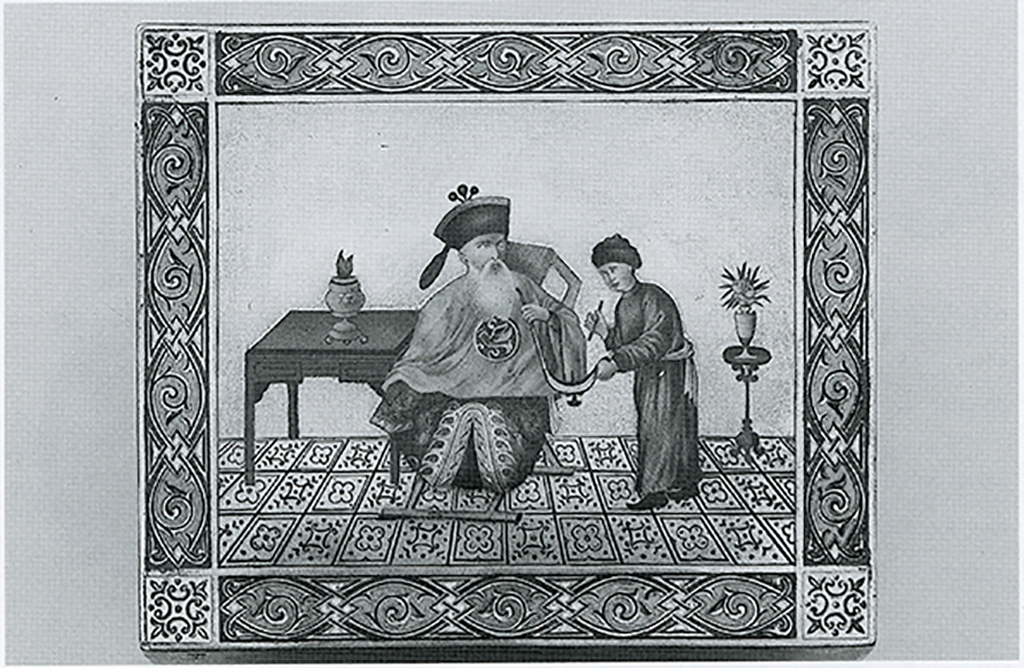 It isn't a particularly large object, standing at 10.2cm tall, and it has some damage on two sides. So why did this Russian tea caddy attract so much attention when it was put up for auction in Geneva in 1994?
Its appeal lies largely in its exquisite decoration. It was fashioned in 1888 in St Petersburg during a period in which there was a huge surge of interest in traditional Russian crafts, including the old enamel techniques: champlevé, cloisonné and niello.[1] Motifs at this time were drawn from a wide range of cultures and artistic styles, including Byzantine art, folk art and art nouveau. The firm of Pavel Ovchinnikov, established in Moscow in 1851, was the leading champion of these techniques, but his example was followed by many other Russian firms, mainly in Moscow and St Petersburg. In the 1890s, Russian enamel was internationally renowned.
The silversmith who created the tea caddy, Alexander Benediktovich Lyubavin, was one of those who adopted these ancient techniques. You can see beautiful, multicoloured champlevé enamel on the tea caddy's sides and top. Some of the colours – the orange on the curtain, for example – are vivid, in line with the palette commonly used in Russian enamelling, but others are more subtle. It displays scenes from Chinese courtly life. According to Richard Hare, who featured it in his book, The Art and Artists of Russia (1965), it is a rare example of Russian chinoiserie; a Lyubavin tea caddy with similar scenes was recently sold at auction.[2] Lyubavin's firm was awarded an Imperial warrant.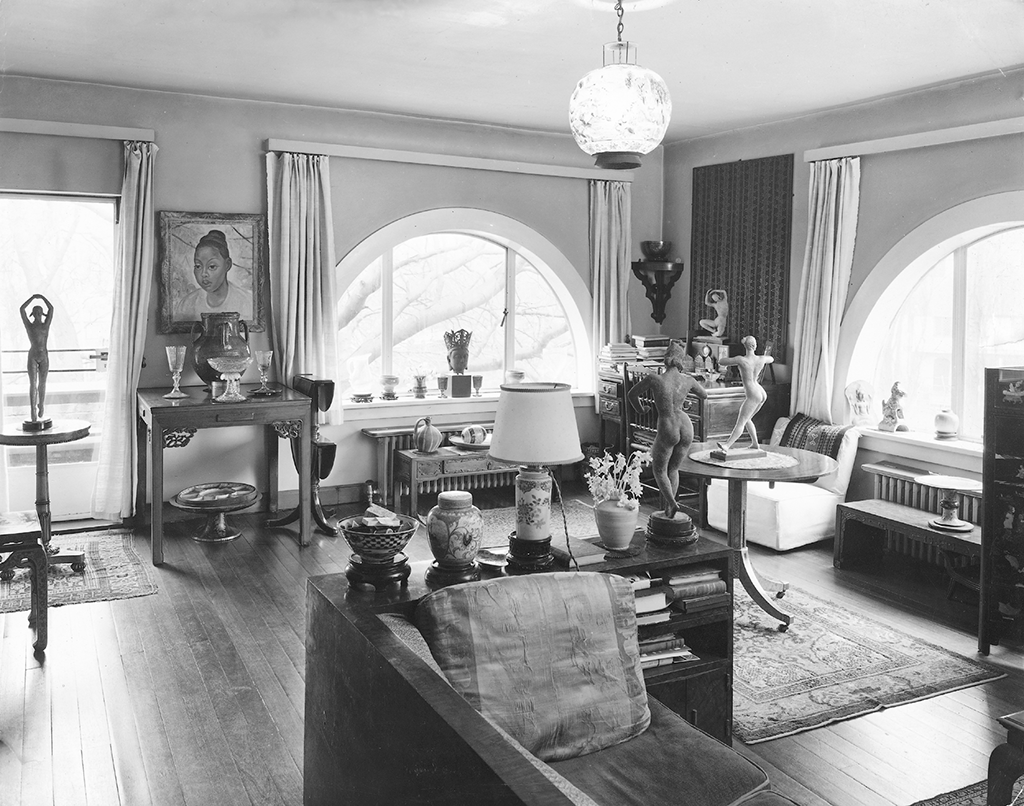 We don't know whether Richard Hare and Dora Gordine bought the tea caddy abroad or purchased it in Britain, but it became part of their extensive collection of Russian art, silver, porcelain, papier-mâché and furniture. The collection decorated their home, Dorich House, alongside Gordine's sculptures and other works, and they intended to leave it to the nation. Many of these objects were used to illustrate Hare's book The Art and Artists of Russia.
After Gordine's death in 1991 (Hare having died in 1966), much of the collection, together with a wide range of other objects, was sold at auction to fund the much-needed renovation of Dorich House, which was, by then, owned by Kingston University. In all, I have found in my research that there were 54 auctions, 950 unique lots, and 2,400 objects put up for sale, with the first auction taking place on 15 August 1994 and the final one on 8 and 9 May 1997.
There was much excitement around two of the largest auctions, both held by Phillips Auctioneers on 15 November 1994, one in London and the other in Geneva. These featured the highest quality items from Gordine and Hare's Russian art collection, and the auctioneers made much of the fact that they had been owned by Hare, who was an acknowledged expert. Before any of the auctions took place, the whole collection was set out on three floors of the Phillips warehouse. It was an astonishing sight. In a recent interview I conducted with Brenda Martin, the first curator of Dorich House Museum, she recalled the wonder she felt on seeing the whole collection and of her mixed feelings at seeing so many lovely pieces that would be up for sale.
The Geneva auction featured the Russian silver, and international buyers competed to secure the choice objects.
Brenda Martin recalled that the auctioneers had put forward a strong case to the university to include in the auctions all the choice pieces by named silversmiths, such as Fabergé, Ovchinnikov, Khlebnikov and Lyubavin. They knew they would generate interest amongst major collectors and thus maximise the money available for the renovation of Dorich House. However, Brenda spoke with regret at the decision to sell the tea caddy, musing that it could have been displayed with the damaged area facing away from the visitor.
At the Geneva auction, 493 objects were sold in 210 lots. Among the pieces for sale were 208 spoons, 31 beakers, 24 cigarette cases, 17 goblets, 28 salts, 34 cups, 13 jugs and 12 lemon-tea glass holders. Many presale estimates were exceeded. The tea caddy was expected to achieve 8000–12,000 Swiss francs but reached 28,000 Swiss francs (around £13,000), considerably more than any other lot.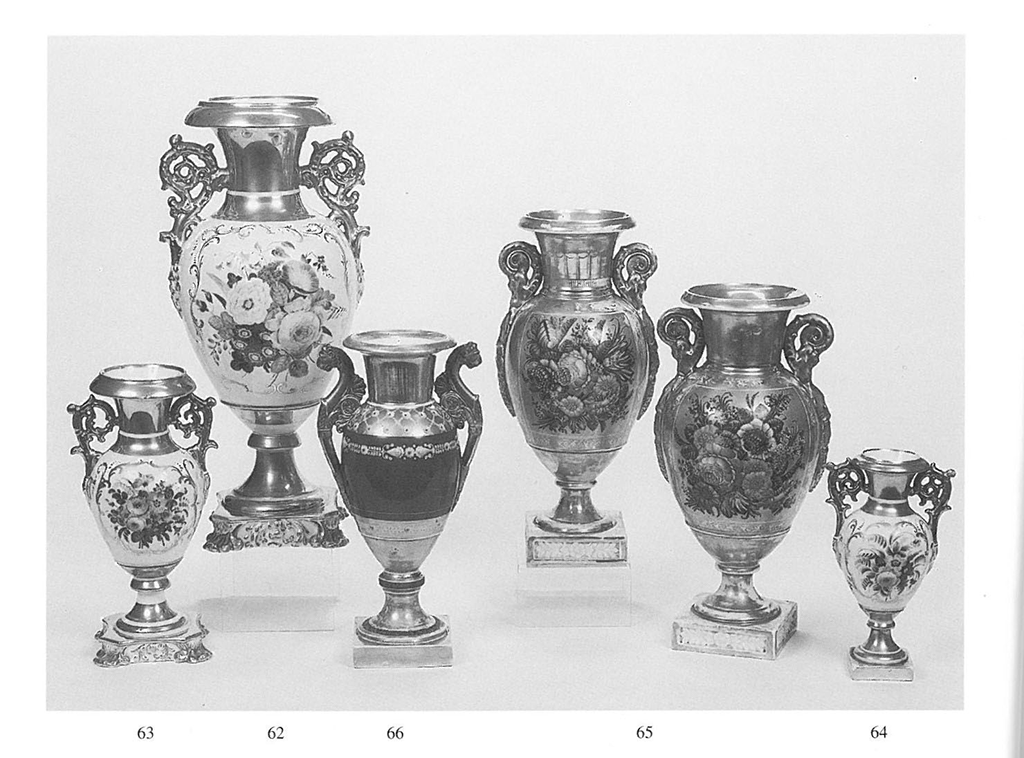 The other auction on 15 November 1994, held in London, featured Russian works of art. It also attracted a great deal of interest from collectors and dealers. The star lot was a pair of Batenin vases. The Batenin factory, based in St Petersburg, was the leading private porcelain manufacturer between 1814 and 1838. These two vases, with their amphora style, elaborate gilding and bright bouquets of flowers, were typical examples of this maker. The Batenin vases reached £13,000, against an estimate of only £400–£500.
The London auction also featured a range of other porcelain, including plates, jugs, eggs and figurines, furniture in the vernacular style, boxes, glassware and Russian Icons. In all, the lots comprised 50 cups and saucers, 66 plates, 59 eggs (41 porcelain, 13 wooden, 5 papier-mâché), 47 icons, 21 other works of art, and 28 papier-mâché boxes.
The two key auctions raised over £250,000. Only a capsule collection of Russian items was retained in Dorich House. However, the rest of the collection played a vital part in ensuring a future for the building.
Alison McGregor
Published as part of the project The Squatter Years: Recovering Dorich House Museum's Recent Past, funded by the National Lottery Heritage Fund, January 2021.
---
[1] In the Cloisonné process, strips of silver or gold wire are fixed onto the metal object to form compartments (cloisons in French) that separate enamel paste of different colours. These strips remain visible in the finished piece. In Champlevé (confusingly meaning 'raised field' in French), troughs or cells are carved into the surface of a metal object and are then filled with vitreous enamel. After both enamelling processes, the pieces are fired until the enamel fuses and the objects are then polished. Niello was another common process used in Russian silversmithing, in which an engraved metal surface is filled with a black mixture – usually composed of sulphur, copper, silver and lead – and the object is then fired.
[2] 'A silver, Champlevé and en plein pictorial enamel tea caddy, Lyubavin, Moscow, 1884', Russian Works of Art, Fabergé and Icons, Sotheby's, 2 December 2020, https://www.sothebys.com/en/buy/auction/2020/russian-works-of-art-faberge-and-icons/a-silver-champleve-and-en-plein-pictorial-enamel.