Discovering the Personal Style of Dora Gordine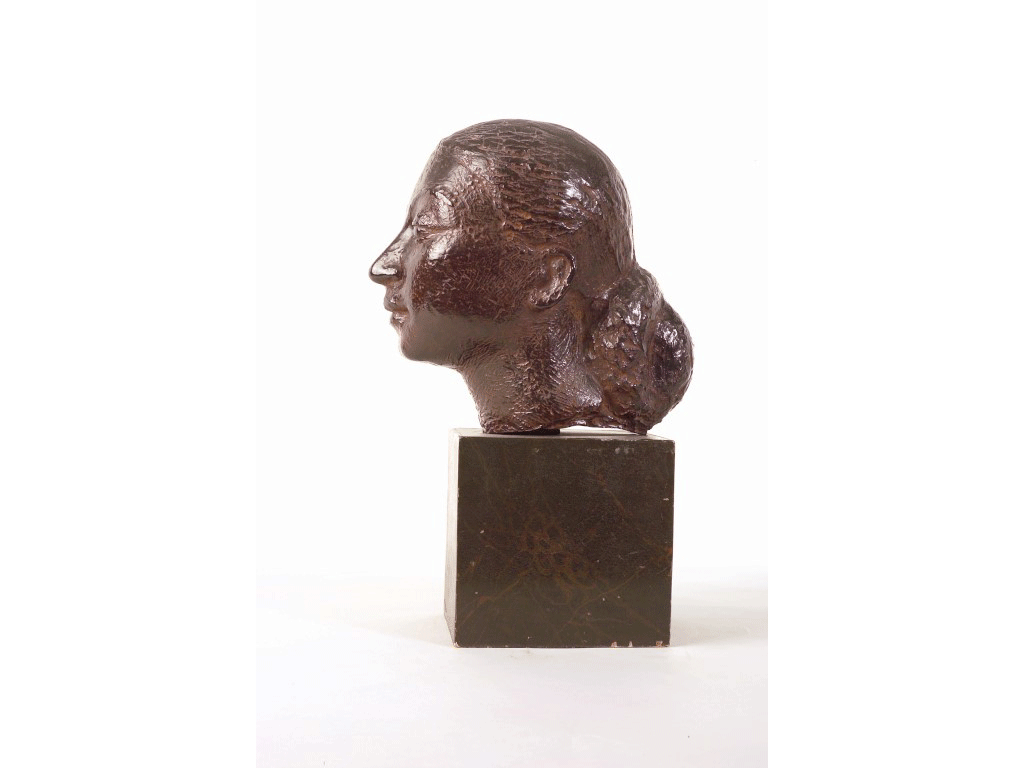 A Chinese gold necklace and a Vacheron Constantin wristwatch were just two of the items of jewellery from Dora Gordine's collection that were sold at auction in 1995. Here volunteer Louise Dear takes a look at the evolving fashions and personal style of Gordine with a particular focus on the artist's jewellery.
Last spring I began volunteering at Dorich House Museum, having visited the house and become intoxicated by the sculptor Dora Gordine. Just as I began volunteering, the 2020 pandemic lockdown began, but I didn't let this stop me in my quest to find out more about this fascinating artist.
In particular, I was struck by how stylish Gordine was in the photographs on view at Dorich House and also how she seemed to change in appearance over the course of her life. The archive images showed her wearing some stunning items of jewellery, some of which I later discovered had been sold at auction in 1995. East Asian and Indian earrings, necklaces and chokers, as well as some glamourous high-end pieces from Europe were sold at these auctions. This got me wondering what these pieces of jewellery might tell me about Gordine and the styles that she adopted in the different locations she lived and worked in over her career – Paris, Singapore and London. Would I find something unexpected from an artist once described in 1938 as 'very possibly becoming the finest woman sculptor in the world?'[1]
'Bohemian' Dora? Success in the City of Light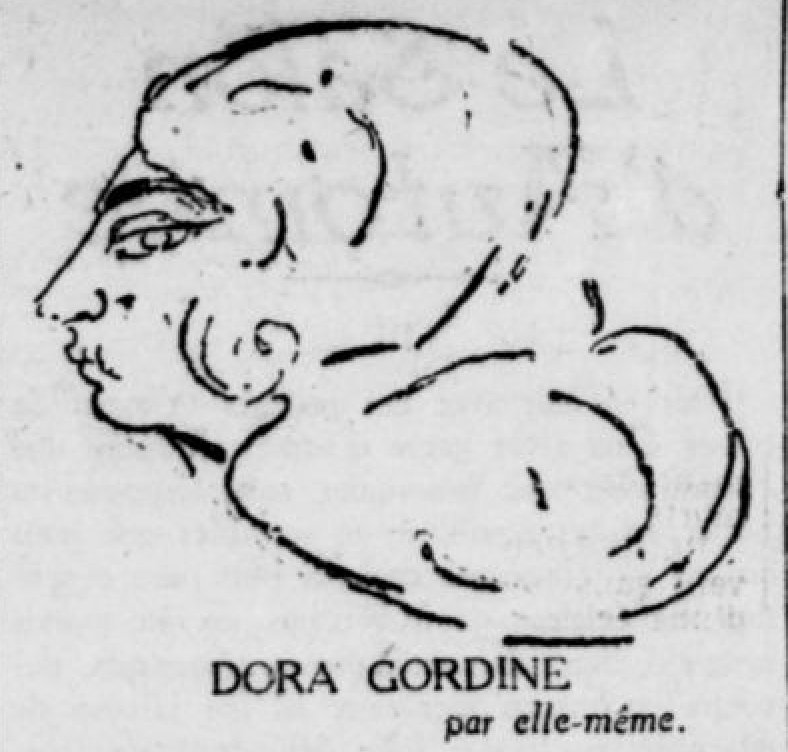 I began by investigating archive photographs and newspaper clippings that featured images of or descriptions of Gordine from when she arrived in 1920s Paris. At this time, she was described by a friend Janet Vaughan as 'a very young, unknown, Russian refugee in Paris, working almost alone and untaught and living on air, as far as one could understand; but she was an exciting person, full of courage and laughter, strangely beautiful, with a great knot of hair at the nape of her neck'.[2]In this distinctive self-portrait in a 1927 Paris newspaper L'Ère nouvelle, Gordine appears to me to look very much the part of a struggling artist in bohemian Paris with the glorious mass of hair described by Vaughan.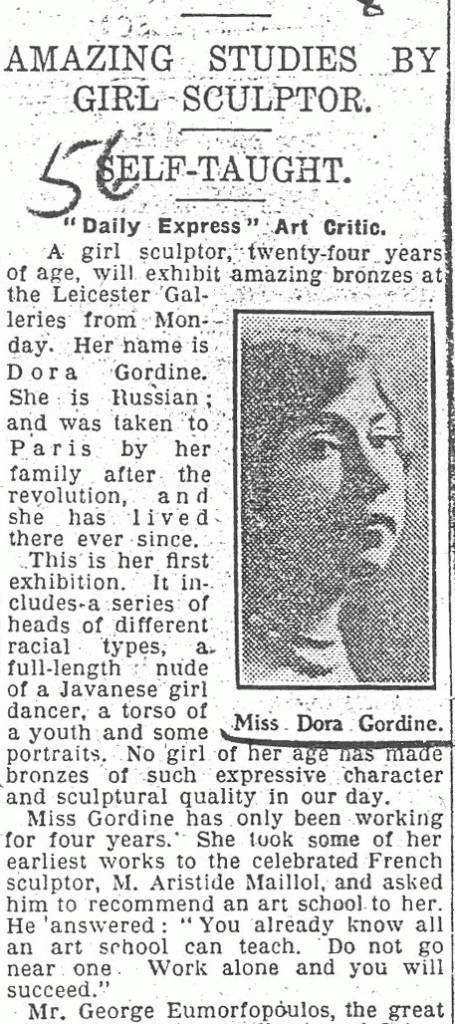 The 'very young' Gordine was 31 years old at the time of this romantic observation; she was not a refugee from Russia and she also does not seem to have struggled financially. Many were entranced at the time by the glamour and mystery of aristocratic Russian nobility, many of whom had fled Russia after the 1917 communist revolution. Imposters made spurious claims to be a living Romanoff, which caught the public's romantic imagination and fed an enigma that lasted decades. As can be seen in this 1928 news clipping from The Daily Express, the narrative around Gordine's family fleeing the communist revolution was also replicated in London newspapers. In this photograph, Gordine is seen wearing a simple beaded necklace, a look she would maintain, adapt and embellish throughout her life.
Gordine seemed content to let some French and English writers and devotees assume that she was a high-born Russian banished by the Bolsheviks. Behind the carefree young bohemian looks, it felt to me that Gordine was a determined artist and an enviable networker who was becoming a creative sensation in Paris and in London. Both cities were places to work and to make her name. As far as can be ascertained, she did not involve herself in the decadent world of bohemian nightlife in Paris, with its partying, hard-drinking and frequently destructive ways. Gordine seemed to be more clean-living, which, I wondered, may explain her ability to pass herself off throughout her life as significantly younger than she was. It must have taken a certain je ne sais quoi to knock a whopping eleven years off her birth age as she did in her Paris years, and maintain the youthful appearance to get away with it.
Traveller and Adventurer
Despite Gordine's success in Paris and London, the outer world around her was turbulent. By the end of the decade, Europe was reeling from the devastating economic and political impact of the 1929 Wall Street Crash. With much of western Europe in depression, and antisemitism on the increase, Gordine, perhaps feeling vulnerable to the latter, gambled with her future again. Hearing of opportunities to work in Southeast Asia, the 'Girl Sculptor Genius'[3] left Europe and travelled to Singapore, via Italy and the Suez Canal, arriving in January 1930. Twenty years later, Gordine recalled of Singapore that 'I was fascinated by the quiet, swaying, graceful walk of the women with their colourful sarongs glowing against their jet-black hair, so decoratively arranged in sleek coils […] it was all so new to me and such an extreme contrast to the quick, energetic movements of European townspeople and to their subdued clothing and surroundings'.[4]
Once again, Gordine did well very quickly, working prodigiously on her sculptures and paintings and capitalising on valuable contacts. She married a well-connected wealthy Englishman, Dr George Herbert Garlick, and acquired a British passport. Her appearance in the upper echelons of that society was recorded in the Singapore Sunday Tribune in 1934, where Gordine is described at a State Ball at the Istana to celebrate the birthday of the Sultan of Johor: 'In contrast to her white frock cut on empire lines with its tight bodice and flowing skirt, Mrs. Garlick, who is well known as Dora Gordine the sculptress, wore a heavy gold necklace and huge earrings and a Russian amber headdress'.[5]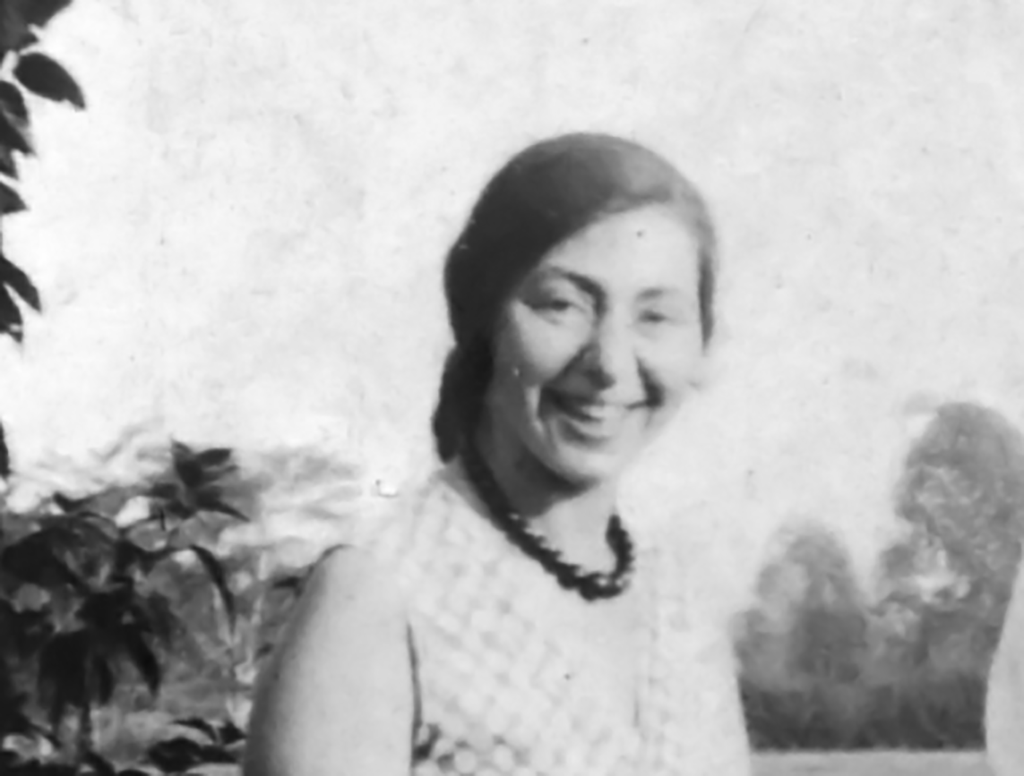 What a glamorous figure she must have cut in that time and place and such a contrast to the Parisian 'living on air' description. Sadly there is no photograph in this article, but another photograph from this time, taken in Johore or Singapore, shows a smiling Gordine wearing a necklace. A Chinese gold necklace was one of many items of jewellery sold at auction in 1995. Looking at the image of her smiling to camera and the photograph from a Phillips auction catalogue for a sale of Chinese & Japanese ceramics, snuff bottles & works of art on 7 June 1995, I can't help but speculate that it is the same necklace seen around her neck, or perhaps even the one described in the Singapore newspaper article.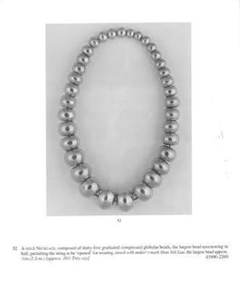 The stunning Chinese gold necklace, struck with the mark of the maker, Shun Yek Lau, was composed of 35 graduated compressed gold beads, with the largest bead, which was approximately 2.5cm, unscrewing in half, permitting the string to be 'opened' for wearing. The gold bead necklace was a star performer at the auctions, making £4200 against an estimate of £1800–£2000. Another sale of jewellery, on 21 February 1995, included such items as 'a jargoon turban pin, a pair of mutton fat jade earrings, a Chinese Mandarin white agate necklace, a Chinese soapstone bead necklace' and various loose beads and pieces. What does this say about Gordine and her personal style? To me, it suggests a desire to stand out, to be admired and to reflect that current moment in time, a time which was enormously successful for her creatively. When that time moved on, would her appearance change again?
The Hon Mrs Hare: Tradition, Town and Tweed
As her Southeast Asian odyssey ended, Gordine divorced Dr Garlick and married The Hon. Richard Hare. It was his second attempt to wed her, having proposed in Paris some years earlier. They married at Chelsea Registry Office, then moved to their newly constructed studio-home, Dorich House, in 1936. Lord William Listowel, Richard Hare's elder brother, recalled in 1995 that after their father's death, Richard 'decided that with the money from his inheritance he would leave the diplomatic service and settle in London and use the money to acquire a house where Dora could work and where he could carry on his own work'.[6] At the time of their marriage, the British aristocracy was at the zenith of its social and economic dominance. By marrying Hare, Gordine became part of this exclusive elite.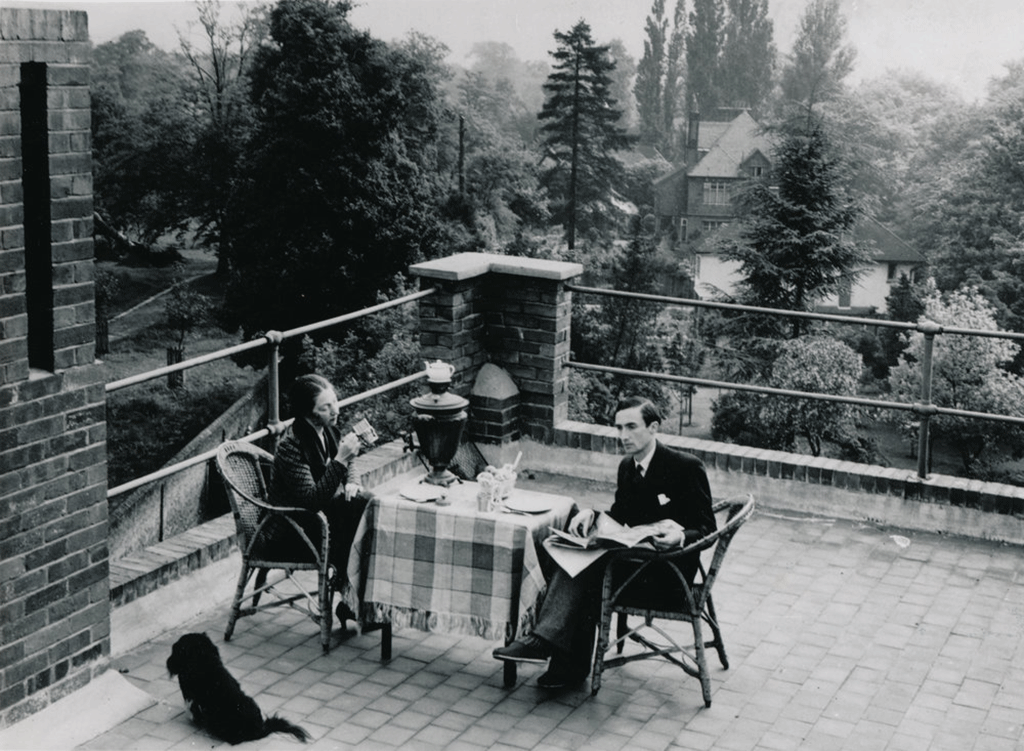 In this photograph, we can see Gordine seated on the roof terrace of the newly constructed Dorich House, wearing what appears to me to be tweed with a tartan cover on the table: appearing the very image of a traditional upper-class 1930s society hostess. A small dog gazes up at her, who looks to be an English Cocker Spaniel.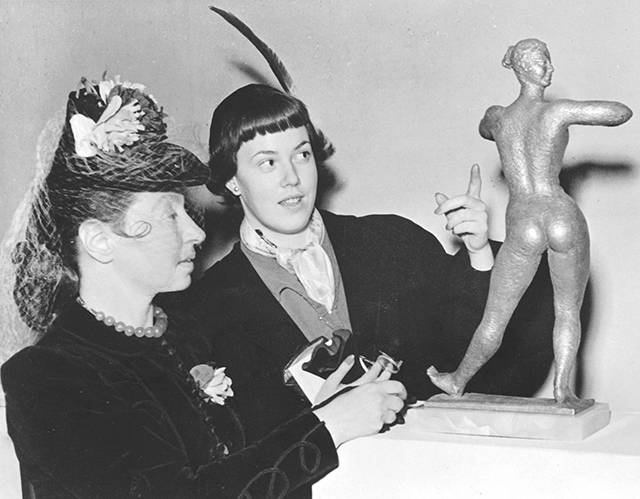 Amongst the London liberal elite, Gordine appeared to be in her element. She was photographed at this time for publication in magazines including Country Life, The Lady, Ideal Home and The Sketch, wrote recipes for aristocratic cookbooks, and made pioneering appearances on BBC radio and television.[7] The balance of the commercial and creative was an art that she seemed to excel at. Her client base broadened from the upper classes (now broke) and wealthy art philanthropists (many deceased) to well-known personalities of the day.[8] With Dorich House and her work as a backdrop, Gordine was photographed with kiss curls, dramatic hair, make-up and jewellery, wearing couture by Elsa Schiaparelli, the legendary Italian designer, whose surrealist collaborations with Jean Cocteau and Salvador Dalí were widely admired and worn by style icons like Wallis Simpson, Greta Garbo and Marlene Dietrich. Gordine often added her own touch with a homemade hat to top off her look. Schiaparelli was such a desirable designer that in the 1949 Nancy Mitford novel Love in a Cold Climate, which tells the story of an eccentric aristocratic family, the narrator Fanny wanted to wear her Schiaparelli label on the outside of her jacket so that people would know who made it. In the same year the novel was published, Gordine was photographed viewing her own exhibition at the Leicester Galleries wearing a black velvet fitted jacket with elaborate frogging, very much in the style of the designer, with kiss curl and a beaded necklace adding to her glamour.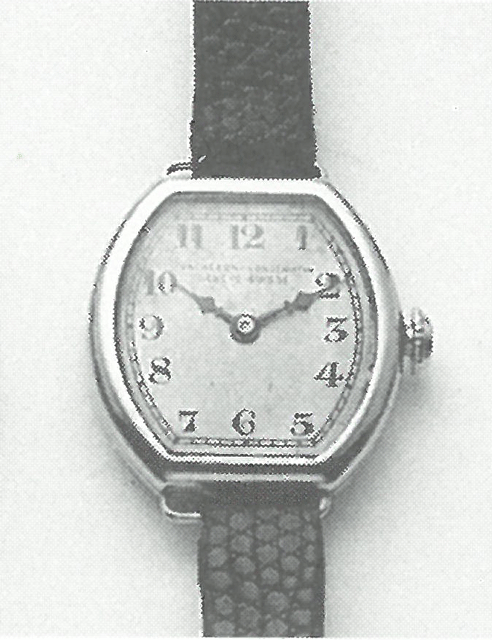 Returning to the 1995 jewellery auctions, a particular wristwatch also caught my attention, listed as lot 14 in a Phillips sale of Selected Jewellery and Wristwatches on 21 February 1995. The maker is Vacheron Constantin, the world's oldest timepiece firm, founded in Geneva in 1755. Their company motto from 1819 onwards was 'Faire mieux si possible, ce qui toujours possible' ('Do better if possible, and that is always possible'), a sentiment that, for me, encapsulates Gordine's hard-working approach to her life and craft. The Vacheron Constantin sold at auction is described in the catalogue as 'A lady's tonneau-shaped yellow precious metal Wristwatch, tonneau-shaped dial with Arabic numerals, movement signed, 21m. diam.' It had a presale estimate of £800–£1000, far more than any of the other watches on the same double-page spread of the catalogue. Sadly, it is not known what the watch sold for. Vacheron Constantin embraced the codes of Art Deco, with watchcases that were oval, rectangular, square or sculpted in asymmetrical shapes, similar to the one pictured here. Famous women known to have worn Vacheron Constantin include HRH Queen Elizabeth II, Diana, Princess of Wales and Hollywood legend Elizabeth Taylor. Patrons are perceived as part of a club, whose members can afford exclusivity and tradition.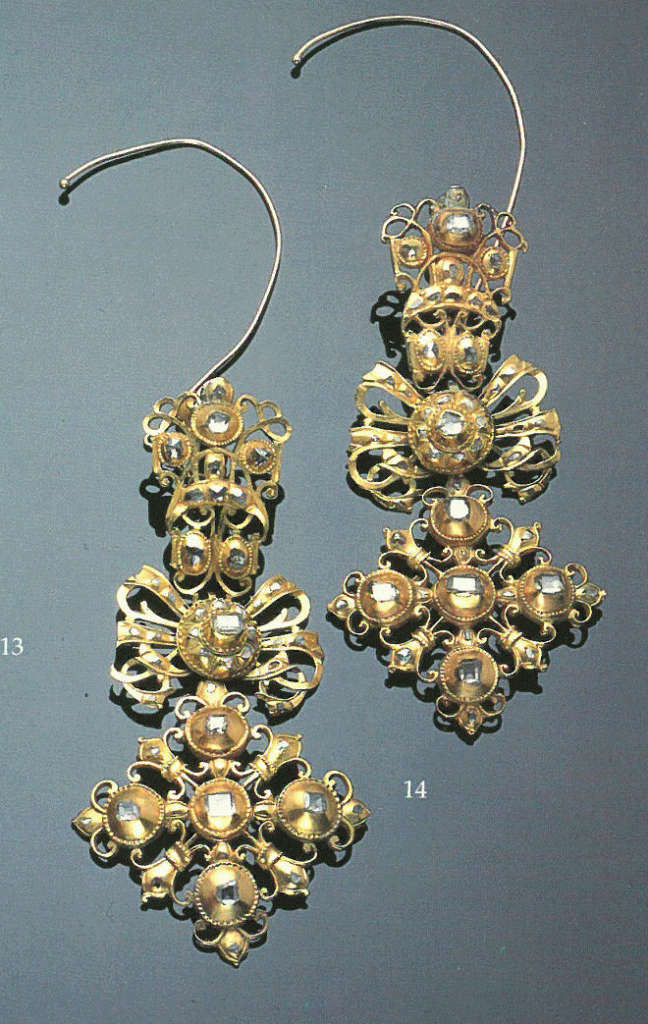 An admiration of tradition is also seen in Gordine's choice of earrings, a good example being the bow and scroll drop earrings pictured here that sold for £1800 in an auction of Fine Jewellery on 7 February 1995. Seen as a symbol of love and marriage, the bow motif first appeared in the seventeenth-century French royal court of Louis XIV. 'Dora was very stylish, she wore court shoes, dresses down to the ankle, the hair was done very much like Carmen with the kiss curls, the curls that go around, and always earrings. She would have been the most magnificent actress,' recalled Trader Faulkner, the actor, writer and model for Gordine, describing himself to me as '94, not out' – a reference to his age. Trader, who passed away in April 2021, was one of the very few people alive at the time of writing who had direct memories of Gordine, having been friends with her since the 1950s. Sartorially sharp in his familiar beret, we chatted via Zoom during lockdown in spring 2020.
To me it appeared that Gordine certainly dressed as if all eyes were on her, rather like an actress in a role, such as in this photograph of her working on the portrait head of the Columbian Ambassador to Great Britain. In another photograph of Gordine, with her illustrious sitter Sir Laurens van der Post, she is wearing twinset, pearls, apron and what are likely her engagement and wedding rings – probably not the most practical pieces of jewellery to wear when sculpting. Sadly, no rings of hers made it into the auctions and what happened to them is currently unknown.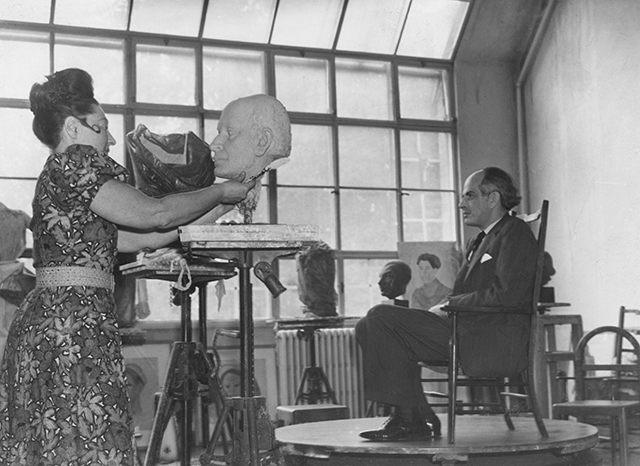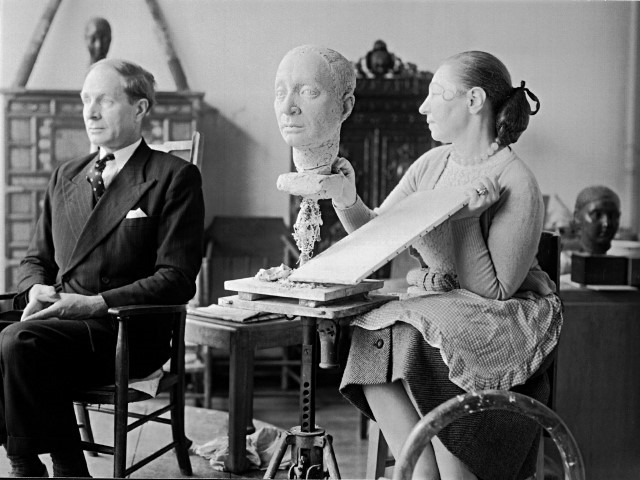 Examining the auction catalogues, I was beginning to realise, with some surprise, that, unlike the rest of her and Hare's collection of Russian art and artefacts, Gordine's personal jewellery was predominantly Asian and traditional high-end heritage western European pieces, although she clearly had Russian jewellery at some point (such as the headdress worn in Singapore, as described in the newspaper article quoted above). Gordine's passion for Russia manifested itself in the other objects that she and Hare sought out together throughout their marriage. Lord William Listowel commented that Richard's interest in Russian art was 'entirely due to Dora' and he 'cannot recall Richard being particularly interested in Russian art before meeting Dora'.[9] Unhindered by the responsibilities of parenthood, the couple were largely free to travel and they collected extensively. Their shared passion for Russian artefacts was dealt a blow with the sudden death of Hare in 1966, struck down by a heart attack aged only 59. This unexpected event left the septuagenarian Gordine heartbroken, and, on her own admission, lonely. Hare's personal style was also revealed at the 15 November 1994 silver auction as the many exquisite enamel cigarette cases sold were possibly his.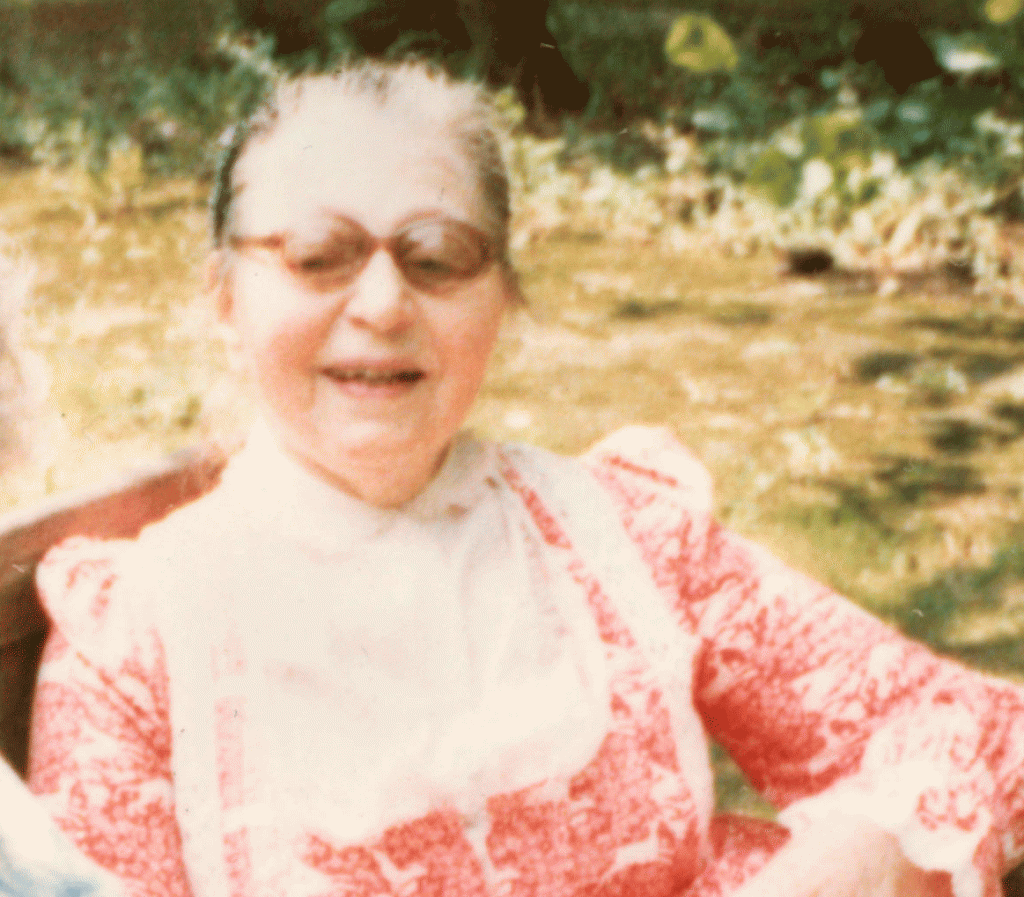 After the death of Hare, Gordine seemed to somewhat retreat into Dorich House, living alone, still working for a while longer, but more isolated as she never learnt to drive. She looked after herself by habitually 'rising at 4am to cook millet with honey and cream, which would sustain her throughout the day', and described it as 'what poor people in Russia eat'.[10] She still played the hostess with relish, as a 1991 entry by her friend the journalist Tim Harrison in her Visitors' Book records: 'Women's fashions, diet fads, making pickles, naughty lads, how to cook a leg of pork, who'd keep up with Dora's talk'.[11] On first meeting Gordine, Harrison recalled her as 'a funny little round woman with a bun and thick glasses […] completely spherical, looked like Queen Victoria'.[12]
Would the artist have approved of being compared to an era-defining British monarch and how would she have felt at having her jewellery sold at auction? Rather like Gordine herself, there tend to be more questions than answers, with a woman described by art historian Jonathan Black and former Dorich House Museum curator Brenda Martin as 'charismatic, talented, imperious, intensely hard-working, highly ambitious, gregarious, disingenuous, secretive and more than prepared to be "economical with the truth".'[13] For me, despite the many mysteries surrounding Gordine, her personal style and jewellery does offer up some answers – or, at least, a gateway to them.
Louise Dear
Published as part of the project The Squatter Years: Recovering Dorich House Museum's Recent Past, funded by the National Lottery Heritage Fund, January 2021.
---
[1] Jan Gordon, 'Dora Gordine at the Leicester Galleries', Observer,6 November 1938, p.14.
[2] Janet Vaughan, Jogging Along or A Doctor Looks Back: 1899–1978, chapter four, unpublished manuscript, 1978, Library, Somerville College, Oxford, qtd in Jonathan Black, 'Portraiture, Patronage and Networking', in Dora Gordine: Sculptor, Artist, Designer, ed. by Jonathan Black and Brenda Martin(London: Philip Wilson, 2007), p.32.Vaughan belonged to the outer ring of the Bloomsbury Group and worked as a guide at the Wayfarers Travel Agency, which specialised in unusual tours and holidays.
[3] 'Girl Sculptor Genius', The Evening Standard, 5 October 1928. The article is a prereview of Gordine's sculpture exhibition at the Leicester Galleries.
[4] Dora Gordine, 'Beauty in the Home', Only for Women, BBC Far Eastern Service radio, 18 April 1950, BBC Written Archives Centre, Reading.
[5] 'A Woman Peeps at Singapore', Sunday Tribune (Singapore), 23 September 1934.
[6] Interview with William Francis Hare, 5th Earl of Listowel, 23 February 1995, Interviews file, Dorich House Museum Archive, DGH/9/1.
[7] Harry Luke, The Tenth Muse: A Gourmet's Compendium (London: Rubicon Press 1954) includes a contribution from The Hon. Mrs. Richard Hare for 'Potage Dorich'. A signed edition of the book is currently on display in Dorich House (in the top floor dining room). In November 1938, Gordine was probably one of the first artists to appear on BBC television, when it was barely two years old and broadcasting from Alexander Palace.
[8] During her life, Gordine impressed a wide range of people at the top of their professions. Writers ranged from Dame Freya Stark (1893–1993), Somerset Maugham (1874–1965), Sir Laurens van der Post (1906–1996) and Sir Kenneth Clark (1903–1983). Actors included Dame Edith Evans (1888–1976), Dame Dorothy Tutin (1930–2001), Dame Siân Phillips (b. 1933), Trader Faulkner (1927-2021) and Emlyn Williams (1905–1987).
[9] Interview with William Hare, 5th Earl of Listowel, 23 February 1995, DGH/9/1.
[10] Email from Jude Olisa, 15 February 2012, Interviews file, Dorich House Museum Archive, DGH/9/1.
[11] Tim Harrison, in 'Visitors' Book', 1991, Dorich House Museum Archive.
[12] Tim Harrison, speaking on his first meeting with Gordine, from the film Dora Gordine: Ars Gratia Artis, written and directed by Annaleena Piel Linnå (2018).
[13] Jonathan Black and Brenda Martin, 'Introduction', in in Dora Gordine: Sculptor, Artist, Designer, ed. by Jonathan Black and Brenda Martin (London: Philip Wilson, 2007), p.9.