Memory of a Beautiful Thing: A Rediscovered Plaster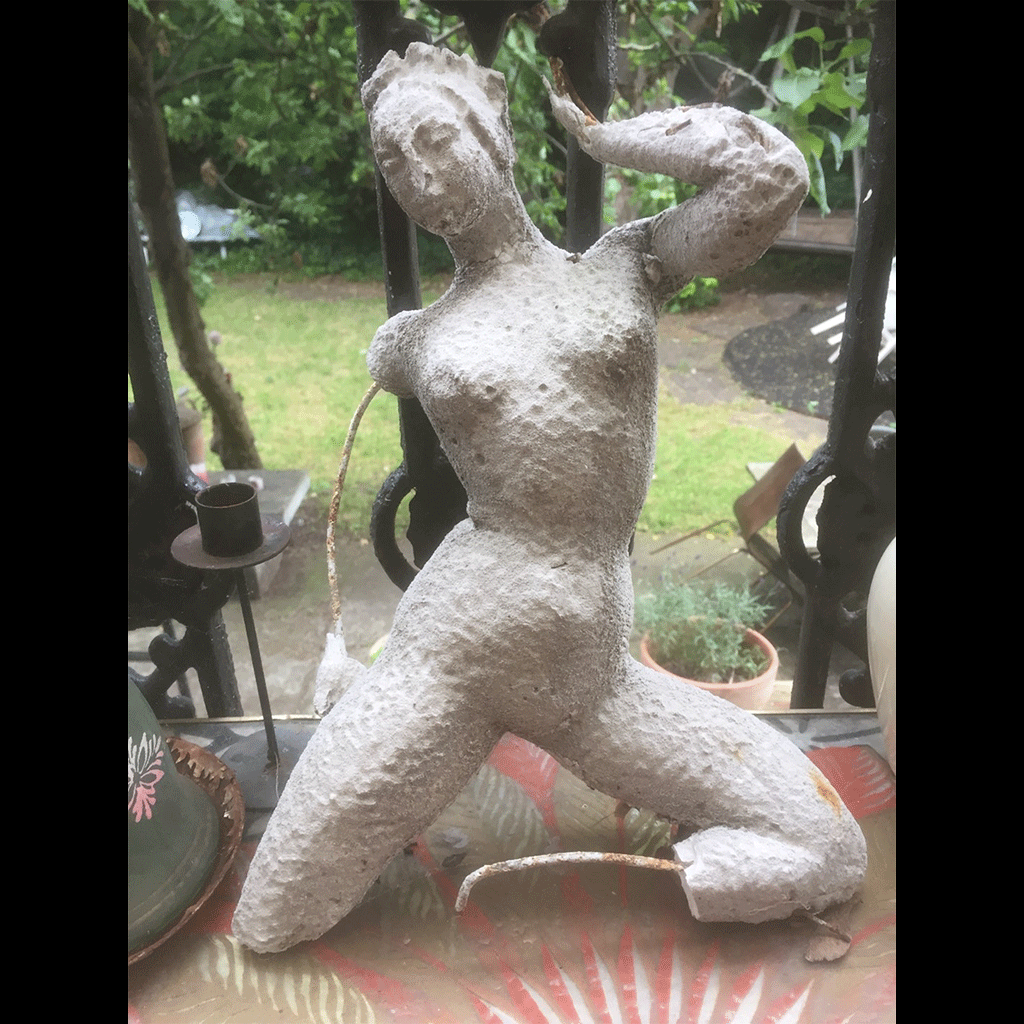 The use of Dorich House in the 1990s as the site of squats and raves, prior to the building's renovation, have long been subjects of local interest, myth and rumour. Prior to the Squatter Years project, only fragmentary evidence of these activities and events could be found in the Dorich House Museum archive and in the stories shared by people visiting the house. Such unsolicited, informal exchanges revealed a public desire to share this history and make it known and formed a starting point for our project.
In October 2019, we put out a call for information asking for people to come forward who might be interested in sharing their stories. Artist Laura Moreton-Griffiths got in touch to say that her husband and his friends were happy to share their stories of visiting the squat. She also attached a photograph of their 'dancing lady' (see above). We had heard rumours that a preparatory plaster model for a Gordine sculpture lived on a houseboat on the Thames. Here Laura sent through a photo of this plaster.
Meeting her husband, Luke Moreton, and his friend, Omar Karmi, in March 2020, just prior to lockdown, volunteer Rebecca Rushton and project coordinator Helena Bonett conducted interviews with them about their memories of visiting the squat in the 1990s. Luke, as a carpenter himself, was much taken with the beauty and craftsmanship of the house and the plaster models that were still there (Gordine's finished sculptures in bronze having been removed and put in storage by her executors). Luke talked about the plaster of the 'dancing lady' that he kept as a souvenir as being a 'memory of a beautiful thing', having had this incredible experience visiting the house over several occasions.
'I mean, I was taken by this, this dancer. You know, we said, would it be disrespectful to take a piece? And it seemed like, well, you know, maybe take one of the smaller ones. And it was damaged anyway, the forward leg, there was definitely a crack there; I think this arm had cracked along… the wire was showing. And I moved from Brockley and, Laura, we lived on a Dutch barge underneath the, sorry, on the River Thames underneath Battersea Power Station for ten years, and the dancer would be on top of the captain's cabin, which is why she's lost so much weight, I think, because it was battered. You know, you get the wind bashing down the river. You know, it's tidal and everything. It's quite, er, what's the word? You're in the elements there. But, you know, she was always very proud on top of the Dom Boscoe (that was our boat).'
Luke reflected how the plaster still lived in a creative atmosphere in its current home: 'when we moved off the boat she went to the house in Brockley […] and she has been there since […] because there's lots of artists and musicians who also live in the house and it's still very creative.'
Omar felt that the squatters were very grateful to have found Dorich House, saying that 'the people who lived here did not come here to destroy anything or anything like that. And they were, I think, very grateful to have found a place like this, as you might expect.' He recalled in a joint conversation with Luke.
Luke: There were a few trinkets [taken] though, weren't there.
Omar: Oh, I'm sure lots of things went missing. But it wasn't like… people didn't come here to loot either. It wasn't, er, there wasn't that.
Luke: No, it was a memory of a beautiful thing.
Omar: Absolutely. There was very much a memento-taking, I guess.'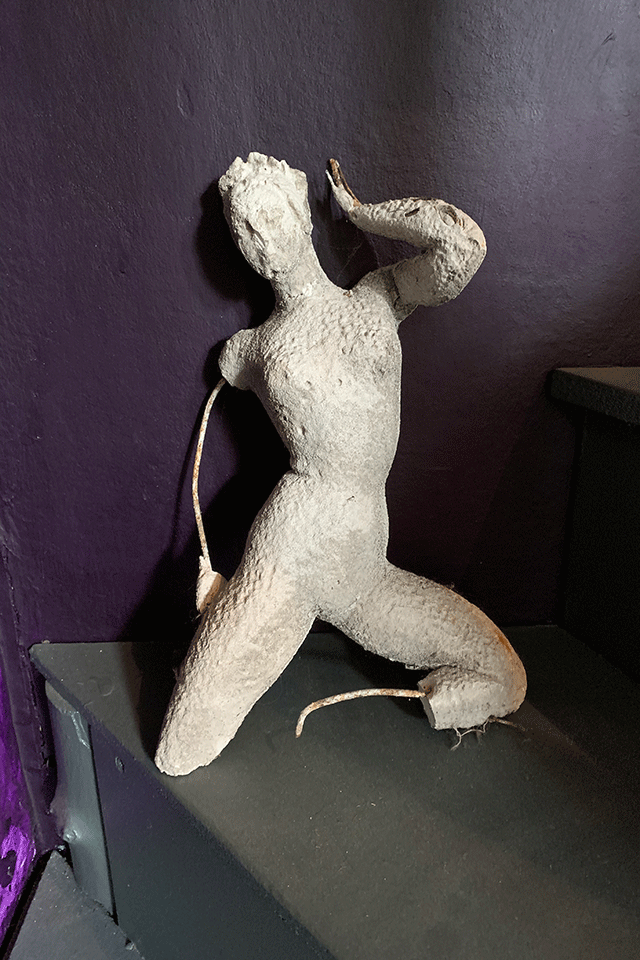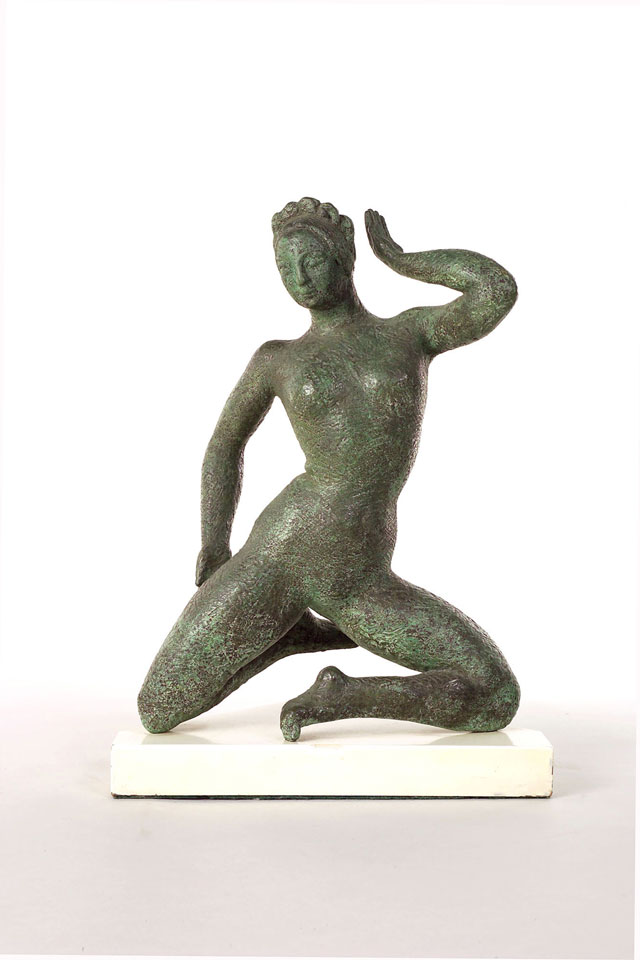 The plaster of the dancing lady described by Luke is the mould for Sylphide (1948–49), a bronze currently held in the collection of Dorich House Museum. Plaster moulds are created before the work is cast into bronze. Dora Gordine sculpted Sylphide unaware that it would be part of an unforgettable experience for some squatters and partygoers forty years later. Luke describes the plaster as a broken but beautiful and stylised piece and the essence of flow and free movement of this figure are fitting characteristics to remember this hedonistic and hazy time from the early 1990s.
Recalling the plasters more generally, Graham Clark, who undertook clearance work for Kingston University at Dorich House in late 1993 and early 1994, just before the building was renovated, describes how some of the other plasters became broken.
'And then we went into what we didn't know at that time was the plaster room. And in the plaster room, there were lots of these plaster moulds all over the floor, they were everywhere. In fact, we collected them up. And we put them at the back of the plaster room – there was a little sort of alcove with, um, I think it all had, um, sort of tiles on the floor – where we thought we'd stack them all up there. And then, after a period of time, the squatters got picked up and left and we made the place secure and left. And then in the morning, we returned to find that somebody had actually broken in during the night and they'd broken into the plaster room – there's a skylight in the roof and they'd come through the roof – and they landed on where we'd put some of the plaster moulds. And so they'd broken some of them, which was a shame.'
A couple of the plasters displayed today at Dorich House Museum wear makeup – a subtle trace of this hidden history of Dorich House, perhaps.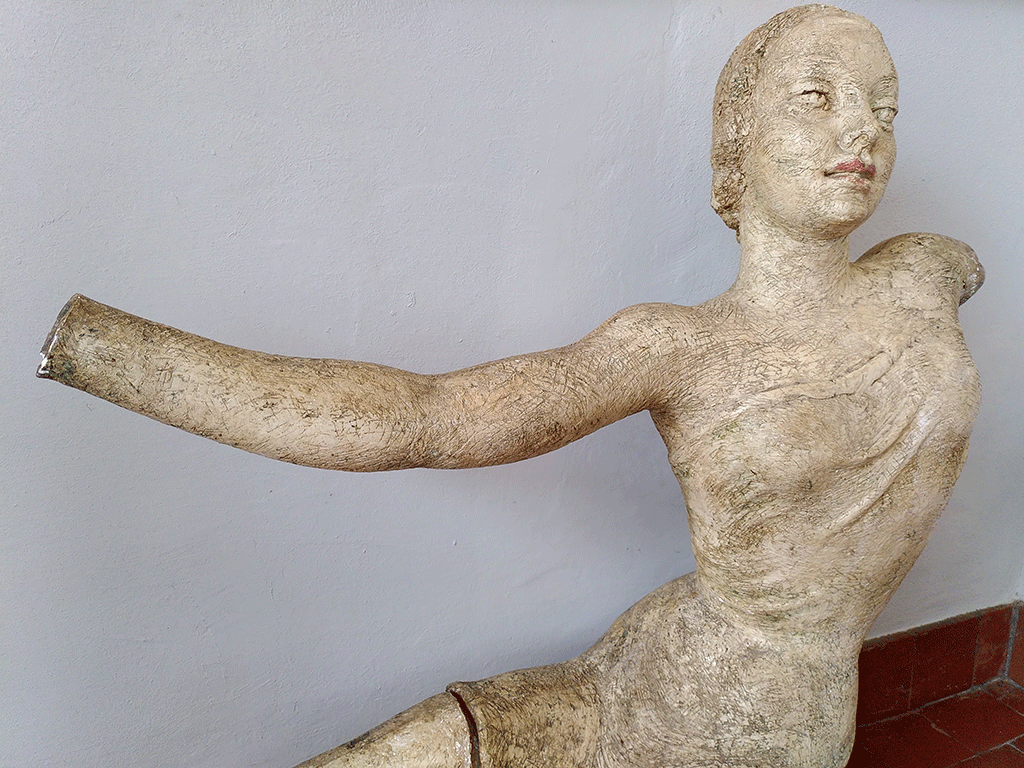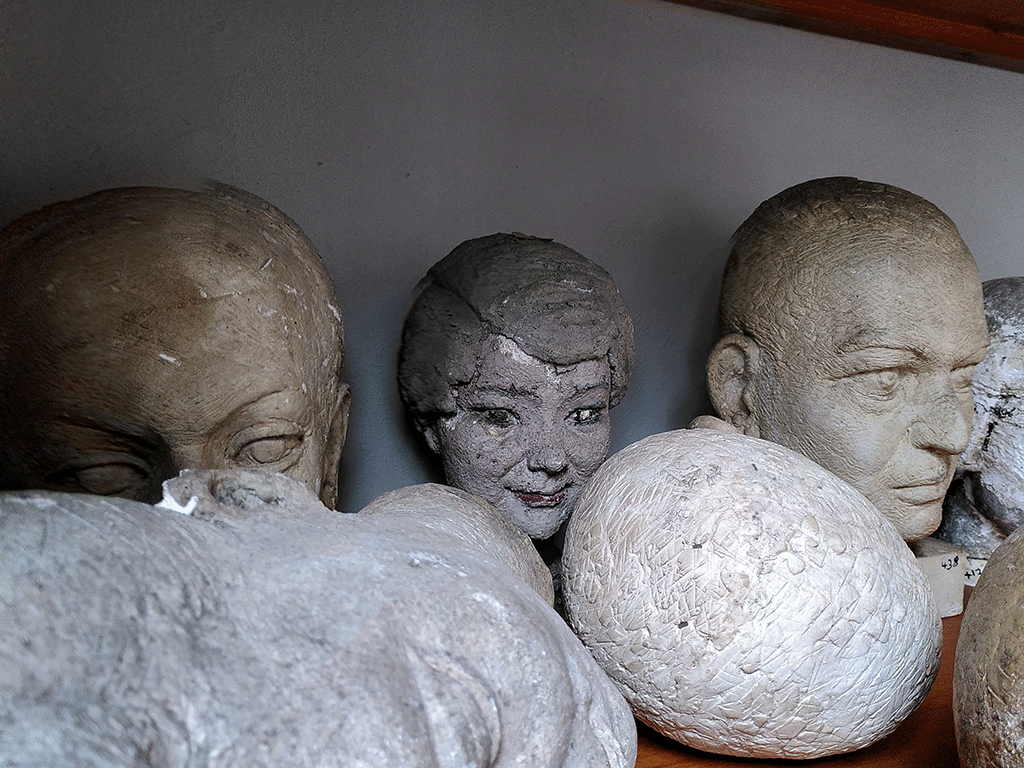 Omar reflected on how the squatters were thankful to have found Dorich House. This gratitude is reflected in the enthusiasm with which the current custodians of the Sylphide plaster talk about it, and this 'trinket' or 'memento' is a recovered example of one of the many hidden histories of Dorich House.
Helena Bonett and Rebecca Rushton
Published as part of the project The Squatter Years: Recovering Dorich House Museum's Recent Past, funded by the National Lottery Heritage Fund, February 2021.