Russian Winter Weekend | 2nd-4th December 2021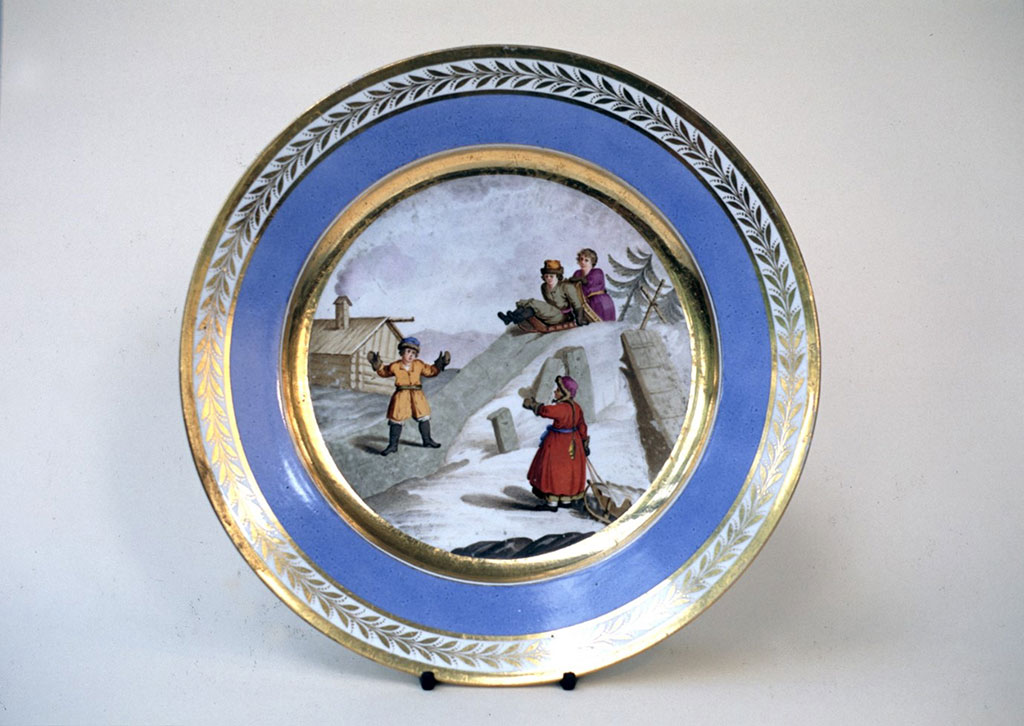 Dorich House Museum is delighted to announce an exciting free programme of Russian themed talks and activities for the whole family.
Highlights will include:
An Object Talk by Lauren Warner | Wood and Paper Treasures in the Russian Collection
11:30am Thursday 2nd December 2021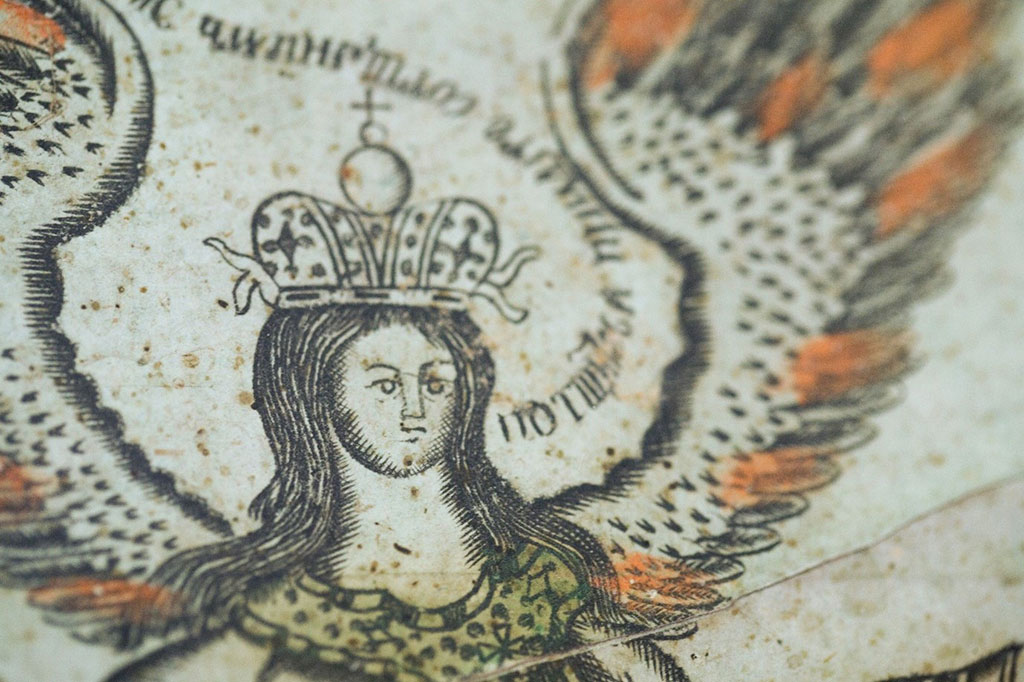 Lauren's talk explores three objects in the Russian collection. She will discuss the art of woodworking by focusing on a mid-19th century oak armchair carved with trompe l'oeil themes and the Russian adage: 'The more calmly you drive, the quicker you'll arrive' [Tishe edesh', dal'she budesh'] and a painted shaft bow, part of a horse harness placed over a single horse or the middle one in a set of three known as a 'troika'. Lauren will also examine an early 19th century lubok depicting the bird of paradise Alkonost. A type of street literature consisting of a single sheet of paper with text and images, the lubok first appeared in the 17th century. Nearly three hundred years later, the lubok served as a significant source of inspiration for the Russian avant-garde.
Lauren Warner is a PhD student at Kingston University. Her project, 'A Little Duck's Nest…of Bad Words: The Sound Art and Visual Culture of Russian Futurist Books', is funded by a Kingston University Research Studentship. Since completing her MA in Russian art from the Courtauld Institute of Art, she has undertaken a wide variety of art historical projects, such as her contribution to the Royal Academy's 2017 exhibition catalogue Revolution. Russian Art, 1917-1932. She is the manager of The Malevich Society.
You can reserve a ticket for this talk here.
Our café opens at 11:00am, so arrive early and grab yourself a coffee and cake to enjoy whilst Lauren begins her talk.
A Talk by Cynthia Coleman Sparke, 'The Fabergé Connection: Russia and England'
11:30am Friday 3rd December 2021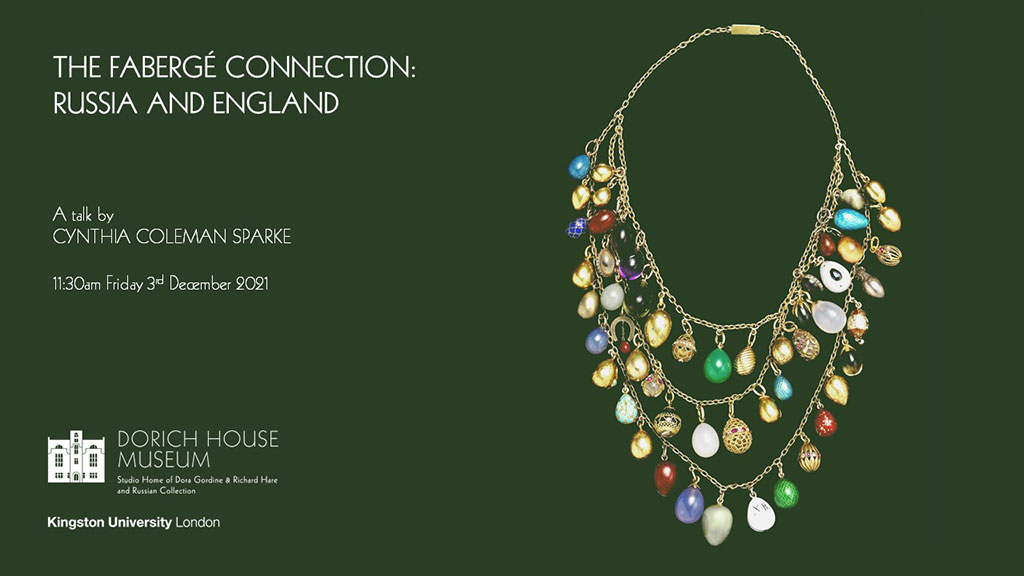 The name Fabergé brings to mind exquisitely designed jewellery and decorative objects and the celebrated Easter eggs made for the Russian Imperial family. Fabergé's Russian sales ledgers disappeared but those of the London branch, opened in 1903, document royal patronage and a 'Who's Who' guide of Edwardian prosperity. American heiresses and other prominent visitors flocked to the London salerooms while the branch supplied periodic trunk shows to delight buyers on the Continent and as far away as Siam and India. The role of the London business cannot be overstated and provides us with insight into a society that was forever altered by the world events that followed.
Cynthia Coleman Sparke's talk at Dorich House Museum on the House of Fabergé's British enterprise will dovetail with an exhibition at the V&A dedicated to the legendary St Petersburg jewellers. Fabergé enthusiasts may wish to visit the V&A's exhibition to view the objects being discussed in our talk.
Cynthia Coleman Sparke is an independent researcher, author and lecturer on Russian pre-Revolutionary works of art, consulting regularly on Fabergé for auction houses. Having grown up in a family of Russian art collectors and lived on and off in Moscow and St Petersburg, Cynthia was destined for a career in Russian art. Previously, Cynthia ran the Russian Department for Christie's in New York and worked for Hillwood Estate, Museum and Gardens in Washington DC. This was followed by a project at the Alexander Palace in Tsarskoe Selo helping with the restoration of Tsar Nicholas II's last residence. Her book Russian Decorative Arts was published in 2014 by the Antique Collectors' Club.
This talk will be conducted in the modelling studio of Dorich House Museum.
To reserve a ticket for this talk, click here.
The studio café opens at 11:00am so please arrive in good time and enjoy coffee and cake prior to the talk.


Talk and tour by Alison McGregor on Dorich House Museum's Russian Collection
11:30am Saturday 4th December 2021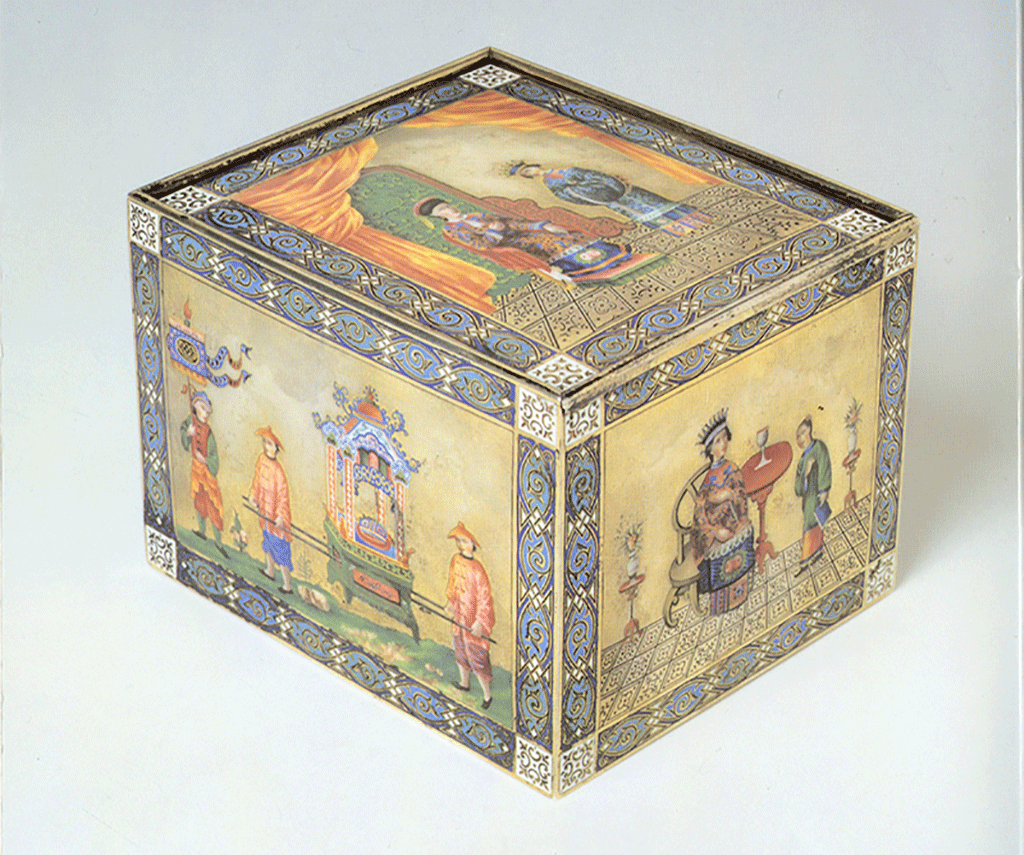 Richard Hare and Dora Gordine developed an extensive collection of Russian silver and works of art. As part of our National Lottery Heritage Fund project on the recent history of Dorich House our volunteers have investigated what happened to many of these exquisite pieces, a substantial number of which was stolen from Dorich House in a burglary in 1988. Most of the remainder was sold at auction in order to pay for the renovation of Dorich House, but a capsule collection was retained.
Alison McGregor, one of our regular tour guides, was involved in this research. She will talk about Hare and Gordine's original collection, the burglary, and the sale of part of their collection at auction in the mid-1990s and then give a tour of the objects which remain in Dorich House today, highlighting some of her favourite pieces from our collection.
To join Alison's talk and tour click here.
The studio café opens at 11:00am so please arrive in good time and enjoy coffee and cake prior to the talk.
Get Creative: Papercut art activity for the whole family
4th December from 1:00pm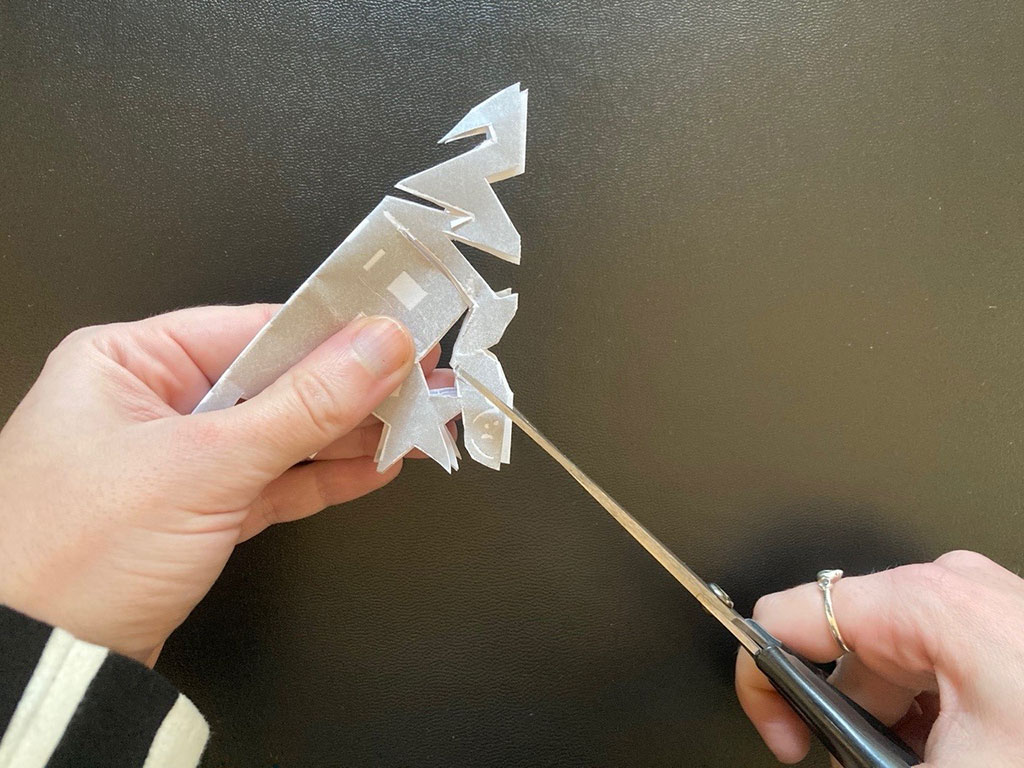 Papercutting has been practiced as an art since the 16th century and was especially popular for decorations at special events. It is said to have its roots in China, and is well-known in Russia, Lithuania, Poland, Germany, and Scandinavia. By the end of the 19th century, it was widely used as decoration for the home – to cover a window or trim a shelf.
Join us to create your own papercut and help us decorate the windows in the modelling studio at Dorich House. You can use one of our templates or design your own! In case you were unable to attend our snowflake making session, but would still like to give it a try, you can download our template here. When you print it out, make sure you select "fit" or "shrink to fit" so the entire outline is visible on the page. Then, simply trim around the edges so you have a square, fold along the lines, and cut out whichever design around Dorich House you wish!
The studio café will be open throughout Russian Winter Weekend where we will be serving tea, coffee, and our delicious ginger cake. We will also have our Christmas tree on display, so it will be a wonderful time to pay us a visit! You can book a self-guided visit to Dorich House Museum during for Thursday, Friday, or Saturday afternoon of Russian Winter Weekend here.