Dorich House Museum's Winter Weekend | 1st-3rd December 2022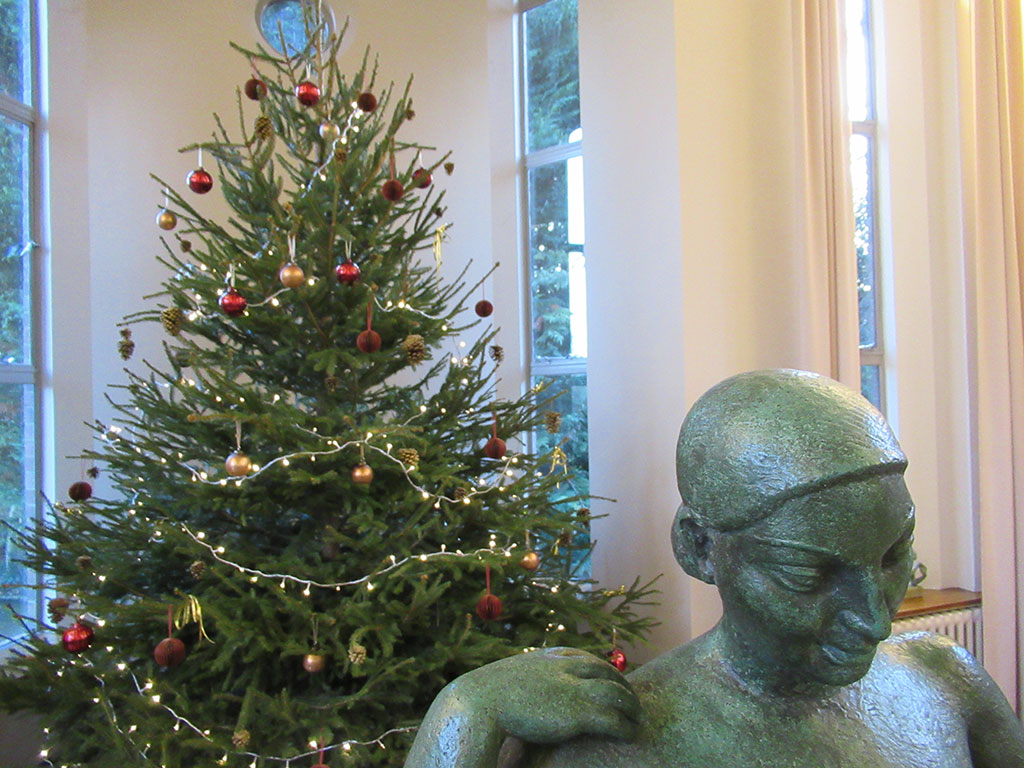 We are excited to announce the programme for Dorich House Museum's Winter Weekend 2022. Join us for one of our talks or activities or simply stop by the museum to browse our pop-up shop, have cake and coffee in our Studio Café, and enjoy the Christmas tree in our Modelling Studio.
Highlights will include:
Pop-Up Shop from Not My Beautiful House
11am-4pm Thursday 1st, Friday 2nd, and Saturday 3rd December 2022 | Drop-In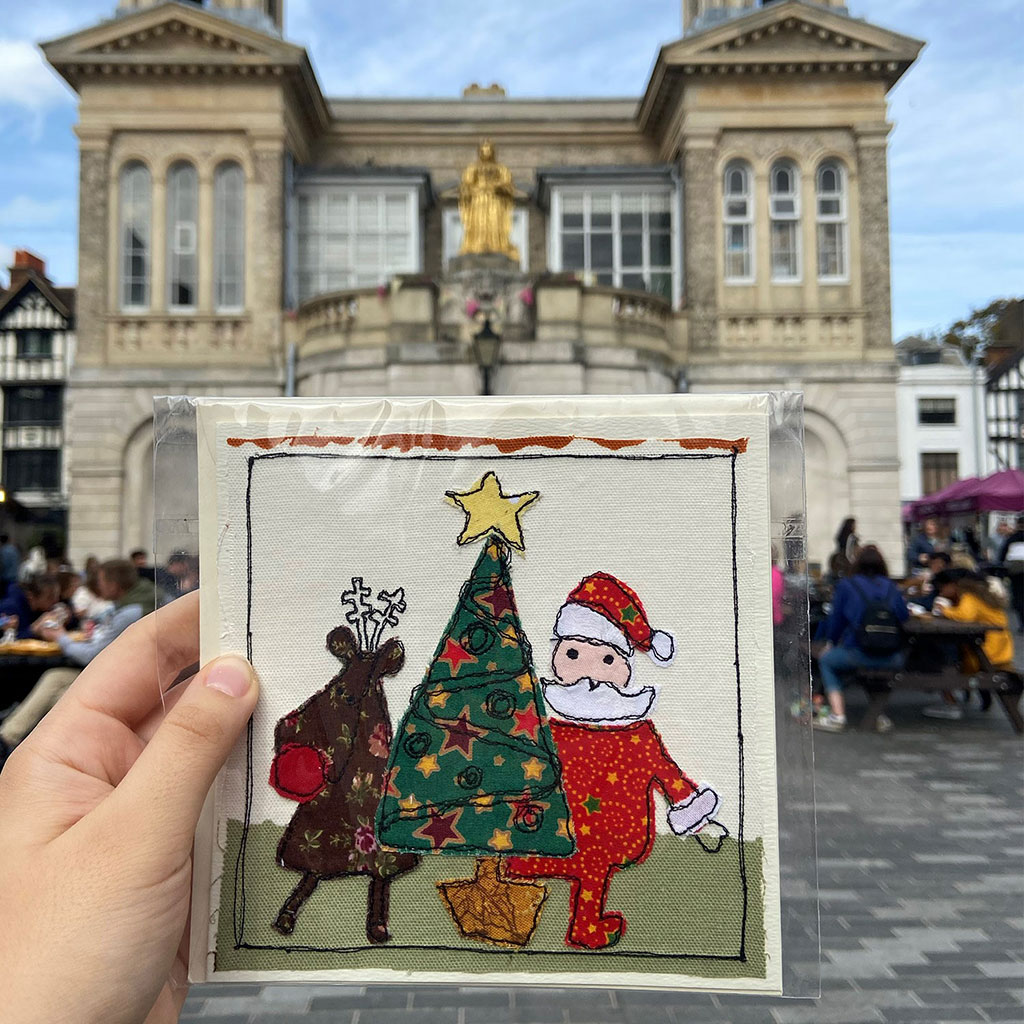 Visit our Not My Beautiful House pop-up shop to do some early Christmas shopping from a range of art, crafts and gifts made by students from Kingston University's School of Art.
Not My Beautiful House is a community led shop, gallery, exhibition and event space for anyone to visit and be inspired by the power of creativity. The concept, branding and initiative was created by students at Kingston School of Art together with support from Union of Kingston Students and Studio KT1 in bringing the project to fruition.


A Talk by Cynthia Coleman Sparke | Russian Revival Enamelling: An Overview of Styles and Techniques with a Focus on Feodor Rückert, Supplier to the House of Fabergé
11:30am Thursday 1st December 2022 | Free | BOOK HERE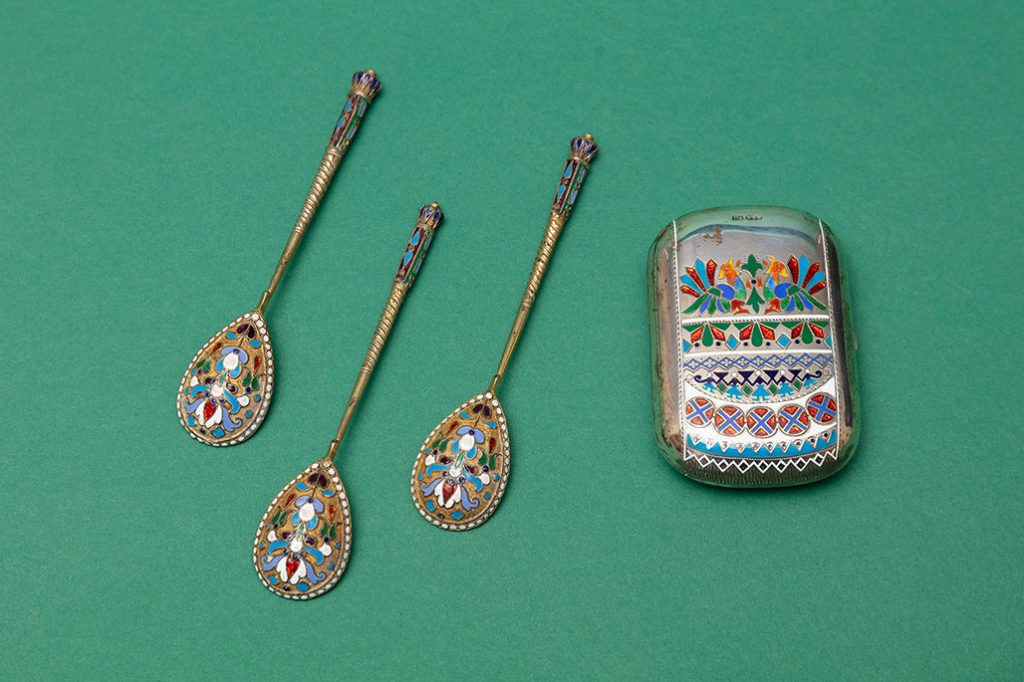 Feodor Rückert was a designer of Russian enamelware and a supplier to the House of Fabergé. For this talk, we turn from the glittering court of St. Petersburg towards heroes and maidens, racing troikas, and onion-domed churches set in snowy landscapes. The myths and fairy tales of Russia were distilled into objects created to satisfy Fabergé's Moscow clientele. Their forms were drawn from the wooden implements of seafaring warriors. Meanwhile, their ornamentation was influenced by traders whose saddlebags brought textiles, metalwork and print sources to the capital. The resulting historic revival was embraced by the empire's most successful merchants and industrialists. The turn away from Western influences and towards native traditions was reflected in the rich enamels of Rückert, whose work will be highlighted.
Cynthia Coleman Sparke is an independent researcher, author and lecturer on Russian pre-Revolutionary works of art. Cynthia was destined for a career in Russian art. Previously, Cynthia ran the Russian Department for Christie's in New York and worked for Hillwood Estate, Museum and Gardens in Washington DC. This was followed by a project at the Alexander Palace in Tsarskoe Selo helping with the restoration of Tsar Nicholas II's last residence. Her book Russian Decorative Arts was published in 2014 by the Antique Collectors' Club.
You can reserve a ticket for this talk here.
Christmas Wreath Workshop
6:30pm Thursday 1st December 2022 | £35 | BOOK HERE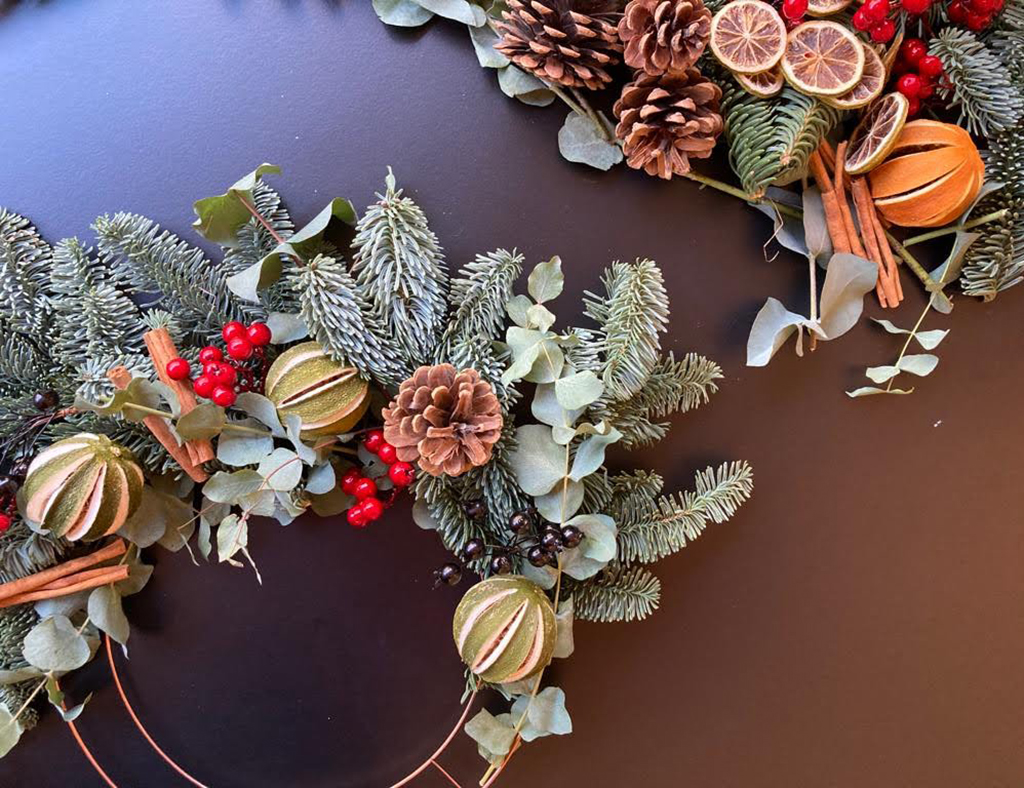 Join us for a festive workshop and learn how to make your own classic style Christmas wreath.
This will be a fun, informal workshop for adults taking place in our beautiful first floor Modelling Studio, a space that inspires creativity. We will guide you every step of the way to ensure everyone leaves with a wreath they can be proud of. Everyone will take their own handmade wreath home to adorn their door, along with the skills to be able to make their own door wreath next year.
All materials are included. We will have a mix of seasonal foliage and festive decorations such as cinnamon sticks, oranges and pinecones for you to choose from, so there's ample opportunity for creativity.
To get into the festive spirit, included in the price, we will be serving mince pies and prosecco, and our Not My Beautiful House pop-up shop will be open at the start of the evening for some early Christmas shopping.
You can reserve a ticket for the wreath making workshop here.
A Talk by Dr Louise Hardiman | Gilt, Glaze, and Grand Designs: Russian Porcelain at Dorich House
11:30am Friday 2nd December 2022 | Free | BOOK HERE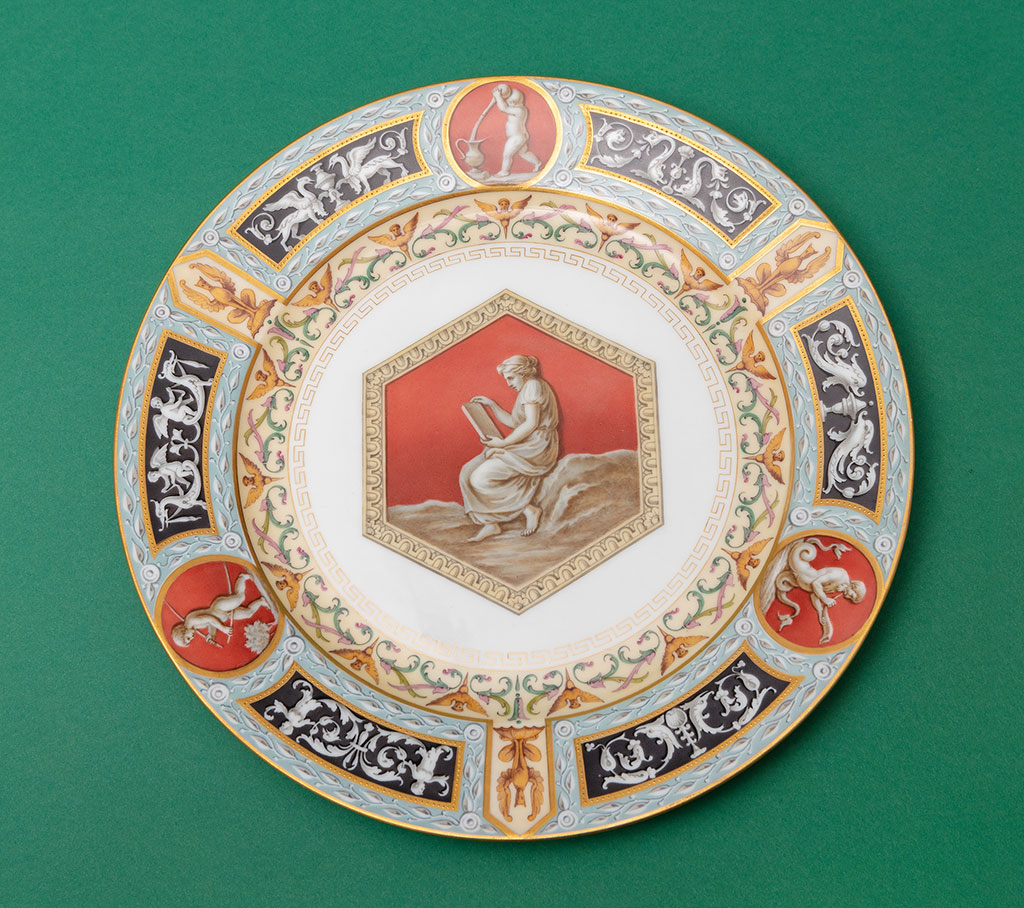 In 2022, Dorich House Museum was awarded a grant by Art Fund to research porcelain objects in the Dorich House collection. The fifty-one pieces comprise around a quarter of the whole collection and show a wide range of object types and designs from different makers and different eras of Russian imperial history. In recent months consultant art historians Louise Hardiman and Cynthia Coleman Sparke have worked together to assess the works and create a new set of catalogue notes, which will help to inform new museum displays, art historical interpretation, and future collection care. In this talk, Dr Hardiman will give an overview of the collection and highlight some key works and their place in the history of porcelain manufacture in Imperial Russia.
Dr Louise Hardiman MA (London) PhD (Cantab) is an art historian, writer, and lecturer specialising in Russian and Ukrainian art and the history of British-Russian cultural relations. Her current research mainly focuses on Imperial Russia in the late nineteenth and early twentieth centuries and the history of Russian Art in Victorian and Edwardian Britain. Dr Hardiman's recent publications include Modernism and the Spiritual in Russian Art: New Perspectives (2017), The Story of Synko-Filipko and other Russian Folk Tales (2019), and Courtly Gifts and Cultural Diplomacy: Art, Material Culture, and British-Russian Relations (forthcoming).
You can reserve a ticket for this talk here.
A Talk and Tour by Alison McGregor | Dorich House Museum's Russian Collection
11:30am Saturday 3rd December 2022 | Free | BOOK HERE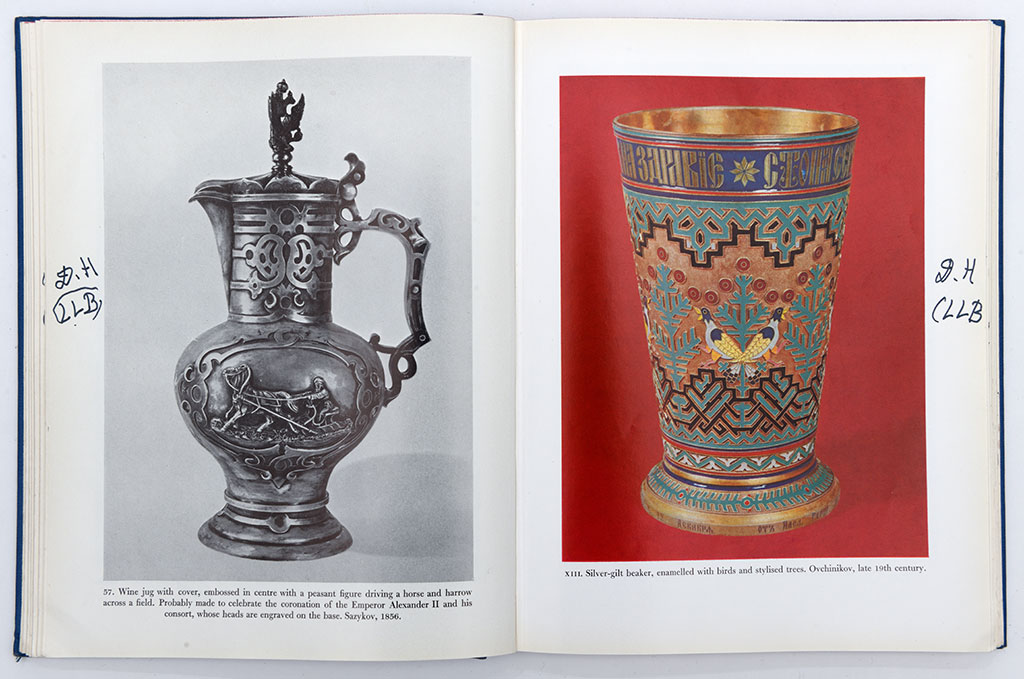 Richard Hare and Dora Gordine developed an extensive collection of Russian silver and works of art. As part of our National Lottery Heritage Fund project on the recent history of Dorich House our volunteers have investigated what happened to many of these exquisite pieces, a substantial number of which was stolen from Dorich House in a burglary in 1988. Most of the remainder was sold at auction in order to pay for the renovation of Dorich House, but a capsule collection was retained.
Alison McGregor, one of our regular tour guides, was involved in this research. She will talk about Hare and Gordine's original collection, the burglary, and the sale of part of their collection at auction in the mid-1990s and then give a tour of the objects which remain in Dorich House today, highlighting some of her favourite pieces from our collection.
You can reserve a ticket for this talk here.
Get Creative: Papercut Art Activity for the Whole Family
Saturday 3rd December from 1pm | Free | Drop-In
Papercutting has been practiced as an art since the 16th century and was especially popular for decorations at special events. It is said to have its roots in China, and is well-known in Russia, Lithuania, Poland, Germany, and Scandinavia. By the end of the 19th century, it was widely used as decoration for the home – to cover a window or trim a shelf.
Drop in at any time between 1pm and 4pm to create your own papercut to take home or to help us decorate the Modelling Studio at Dorich House. You will have your choice of making a paper star ornament featuring patterns from our collection to hang on your tree or a Dorich House Museum inspired snowflake.
If you would like more information about any of our events, or require assistance with booking, please contact us at 020 8417 5515 or email dorichhousemuseum@kingston.ac.uk