Host & Parasites | Onsite & Offsite: 7 October – 22 December 2023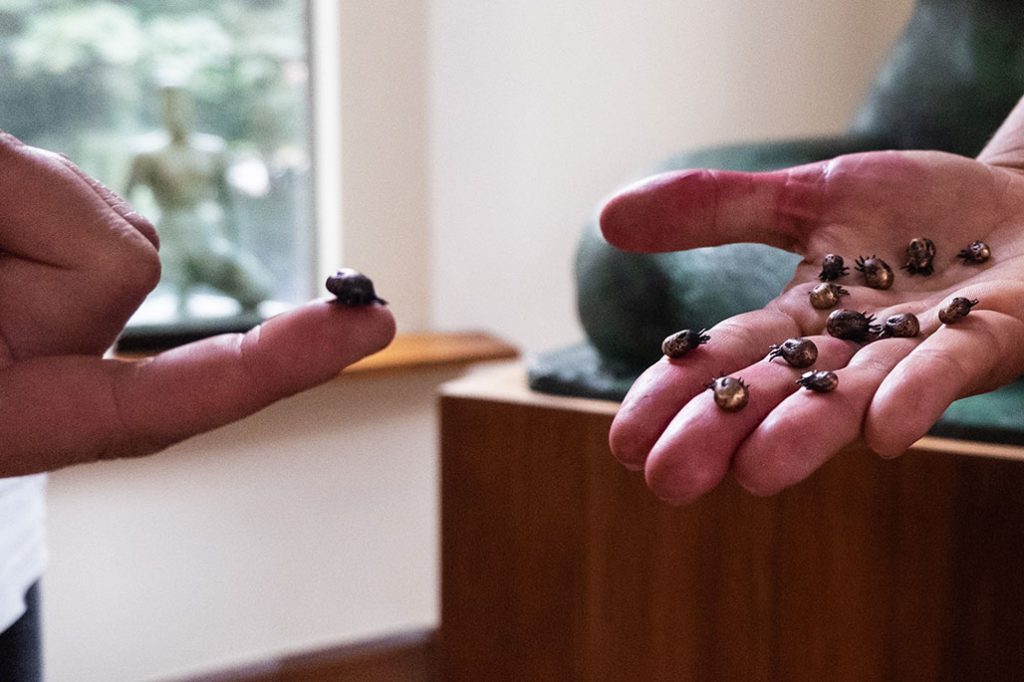 Host by Flo Kasearu at Stanley Picker Gallery
Parasites by Flo Kasearu & Elīna Vītola at Dorich House Museum
Launch Event – Saturday 7 October / All Welcome
11am – 12.30pm at Dorich House Museum, Kingston University
12.30 – 2pm at Stanley Picker Gallery, Kingston University
For Flo Kasearu's first UK solo show "Host", visitors will not be able to visit her major piece the Flo Kasearu House Museum as this is in Tallinn, so instead she has produced soap replicas of her 113-year-old family house. This will not only provide a lifetime's soap supply for Flo's home sauna but help divert her fear of running out of soap to other worrisome dangers, such as her wooden house catching fire, the gap in her garden fence, and public space being 'parasited' by order.
At the same time in "Parasites", Flo Kasearu and Elīna Vītola are hosted in Dorich House, the 1930s former studio-home of artist Dora Gordine (1895-1991) in Kingston upon Thames. The artists' interventions in the museum include unassumingly tiny objects which encapsulate immense power and potential. The miniature monuments are bronze casts of ticks, thorns, deer poo and seeds among others, which parasite on Gordine's sculptures, connecting the museum and the neighbouring Richmond Park.

BIOS
Flo Kasearu (b. 1985) lives and works in Tallinn, Estonia. Over the past 10 years Flo has been living, working and hosting visitors in the Flo Kasearu House Museum in Tallinn, Estonia. She parasites in private and public spaces, living off various social processes, and using irony as her characteristic artistic tool. She is represented by Temnikova & Kasela. www.flokasearu.eu
Elīna Vītola (b. 1986) lives and works in Riga, Latvia. Her work varies from paintings to complex communal installations involving several other artists and creative practitioners. She has been a host in "Artists Crisis Center", "Monumental Café", and Low Gallery in Riga. She is represented by Kogo Gallery. www.elinavitola.com
Dora Gordine (1895-1991) was born in Latvia and first exhibited in Estonia. Forging her reputation as a sculptor in Paris, London, and Berlin, from 1930 Gordine worked and travelled in Southeast Asia before settling in London, where Dorich House was built to her own design a 'deer's leap' from Richmond Park. Following Gordine's death, the Grade II listed building, an exceptional example of a modern studio house, was acquired and renovated by Kingston University and is now a museum.  

Supported by Kingston University, Arts Council England, the Estonian Ministry for Culture, Estonian Embassy in London, Estonian Contemporary Art Development Center, and State Culture Capital Foundation, Latvia. Courtesy Temnikova & Kasela and Kogo Gallery.