Celebrating Our Students | 'The Squatter Years' Student Projects
CELEBRATING OUR STUDENTS | MA MUSEUM AND GALLERY STUDIES STUDENTS & THE SQUATTER YEARS
Whilst we are temporarily closed to the public, we are working with our partner venue Stanley Picker Gallery to compile a weekly newsletter highlighting previous projects, collection items and activity suggestions to keep you inspired and creative at home. The theme for today's newsletter, Thursday 18 June is Celebrating Our Students.
We would not be able to achieve what we do without the help of our students at Kingston University, who support us with our programmes and collections, help stage public events and workshops, volunteer on projects, as well as stage their own work in our spaces. The enthusiasm and diversity of our students is what makes our University context so exciting. To communicate the opportunities we offer to our students, Museum & Gallery Assistant Kyle Campbell-Pope has created a new short film during the lockdown From Our Students about what the two venues mean to him and fellow students, which you can watch here.
Inspired by our National Lottery Heritage Fund project The Squatter Years: Recovering Dorich House Museum's Recent Past, MA Museum and Gallery Studies students from Kingston University have been working with the museum as part of their module, 'The Challenge of Change'. Led by Senior Lecturer and Course Director, Dr Helen Wickstead, students produced online exhibits reflecting on the occupation of Dorich House by squatters and ravers after Dora Gordine's death in 1991. In conjunction with their research, the students have been working at the Bishopsgate Institute in the Advisory Service for Squatters Archive. The Advisory Service for Squatters was established in 1975 to provide practical advice and legal support for squatters and homeless people. Two of the students' projects are below.
One of MA the students, Mengfei Liu, has subsequently joined us as a volunteer at the museum. Mengfei has already made an invaluable contribution to our team, and will be undertaking a one year placement with us from September. In Kyle Campell-Pope's film, Our Students, Mengfei reflects on her experience working with us so far:
'What I love about Dorich House and Stanley Picker Gallery is that they were really open to crazy ideas that I had. They were really helpful, supportive and accommodating to what I wanted to do.'
Lily Flood
A new generation of ravers
'A new generation of ravers is an ongoing project collecting the thoughts and feelings of the young people who now popularise the illegal rave scene. An echo of the original raves from the 1980/90s which grew due to austerity, these new events have been rising in popularity since 2016, with thousands of people attending events up and down the country. I was interested in hearing why these young people had chosen these events as a night out instead of the nightclubs that line our high-streets, and why these parties have grown so much in popularity since 2016.'
See more of Lily's work on her website.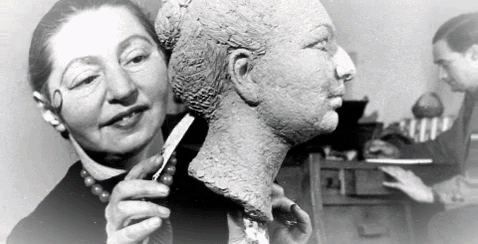 Eleanor Carter-Esdale
Online Exhibition
'This work was an attempt at reflecting the coalition of art and experiencing art. I took particular interest in the influence that hallucinogenic drugs might have had on the ravers encountering Gordine's work. When her work is already so evocative, I wondered how a substance like LSD may have amplified their impact. The visual effects of acid on the taker seem to lean towards the abstract and colourful, a lens through which artwork can be understood and seen on a whole new level.'
View the exhibit in full here.
---
Visit the Stanley Picker Gallery website to subscribe to receive weekly newsletters.