Woman with Baskets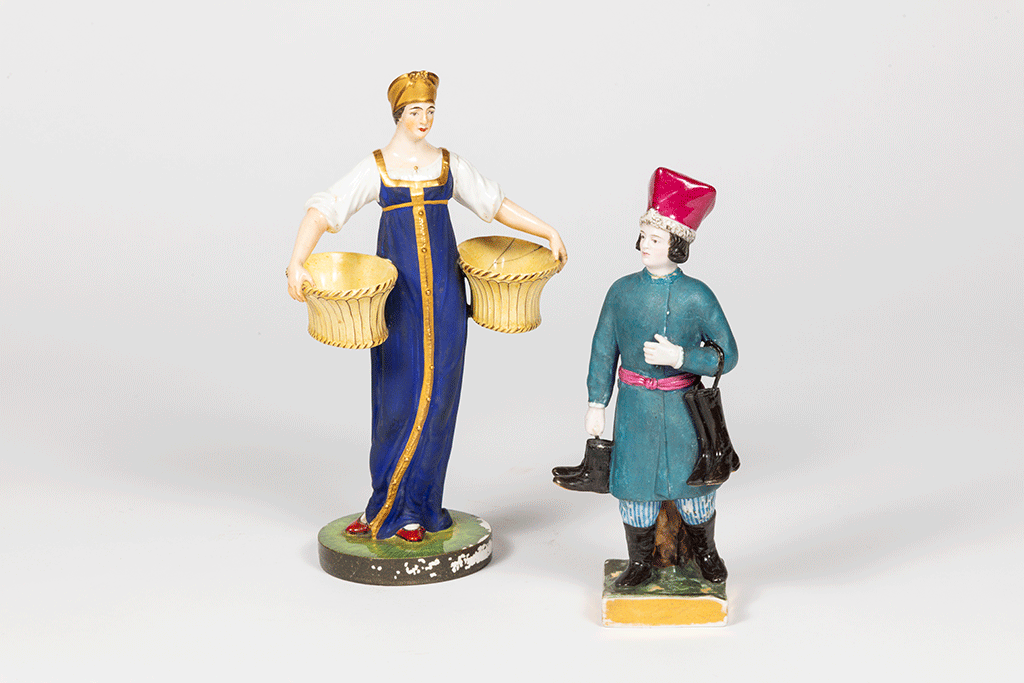 A porcelain figure of a woman carrying baskets, stolen from Dorich House in a burglary in 1988, was later recovered and is now in the Dorich House Museum collection. Here volunteer Carley Bucknell explores the characteristics of the figurine and its place in Russian design history.
Porcelain figurines had never particularly attracted my interest, but when researching the 26 porcelain figurines which were stolen in the 1988 burglary from Dorich House, I developed a new fascination and appreciation for them.[1] I learnt how to recognise them as individual works of art with character and quality. From the 26 burgled figurines one in particular stood out, Woman with Baskets, as I realised that it had been recovered and remained today in the Dorich House Museum collection.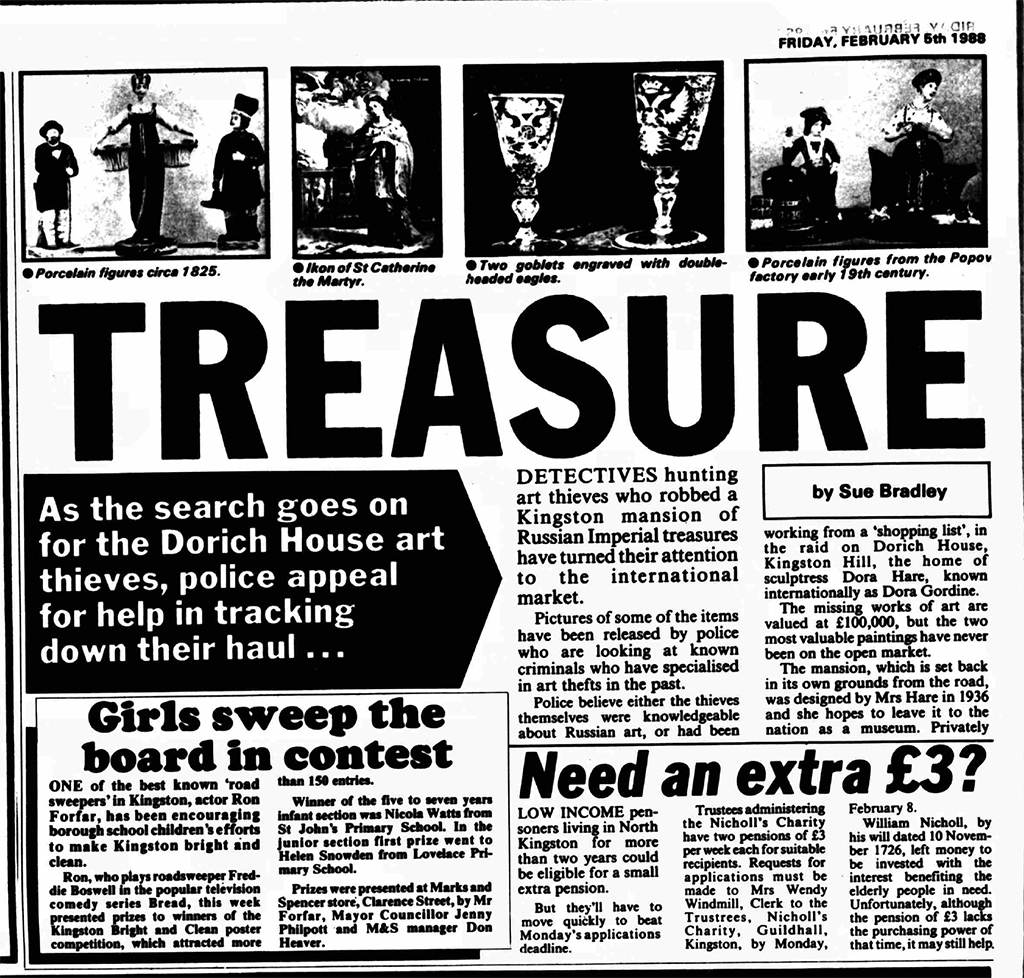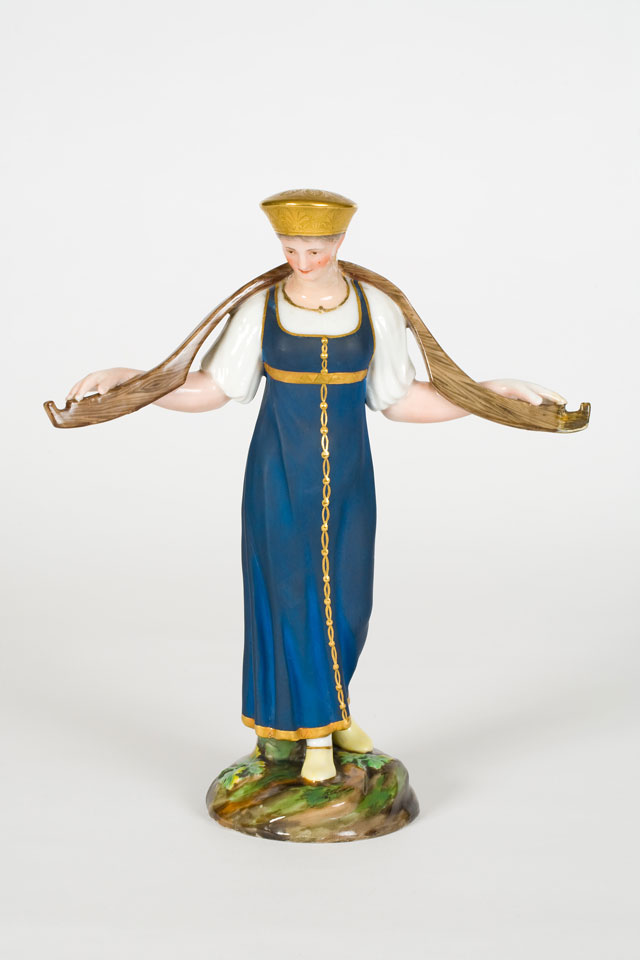 When I began researching Russian figurines I soon realised that figures with similar characteristics to the Woman with Baskets were typically referred to as vodonoska, meaning water-carrier. The depiction of the vodonoska was a popular subject for Russian figurines and there are countless, almost identical versions of it by different porcelain manufacturers. In fact, I discovered that there is one in the Dorich House Museum collection, Russian Figurine of a Water Carrier (although missing its buckets).[2] These different figurines are often shown wearing the same dress, a gold-embroidered blue sarafan (dress) and gold-gilded kokoshnik (headdress). Unfortunately, I was unable to find meaning in the outfit except that the two pieces of clothing were popular amongst eighteenth-century peasant women.[3] I found the lack of meaning quite unusual considering the clothes are always so similar with a gold-gilded blue sarafan and gold kokoshnik. In the eighteenth century, it was fashionable for Russian figurines to display the different classes, jobs and ethnicities that were prevalent in Russian society through their differing decorative costumes, such as the sarafan and kokoshnik of the Woman with Baskets.[4] In his book The Art and Artists of Russia (1965), which also reproduces Woman with Baskets, Richard Hare states that it was a way to show off the 'picturesque national representatives' that could be found in Russia.[5] This tradition became popular in the eighteenth century and resulted in the establishment of many new manufacturers, including the popular Gardner Factory.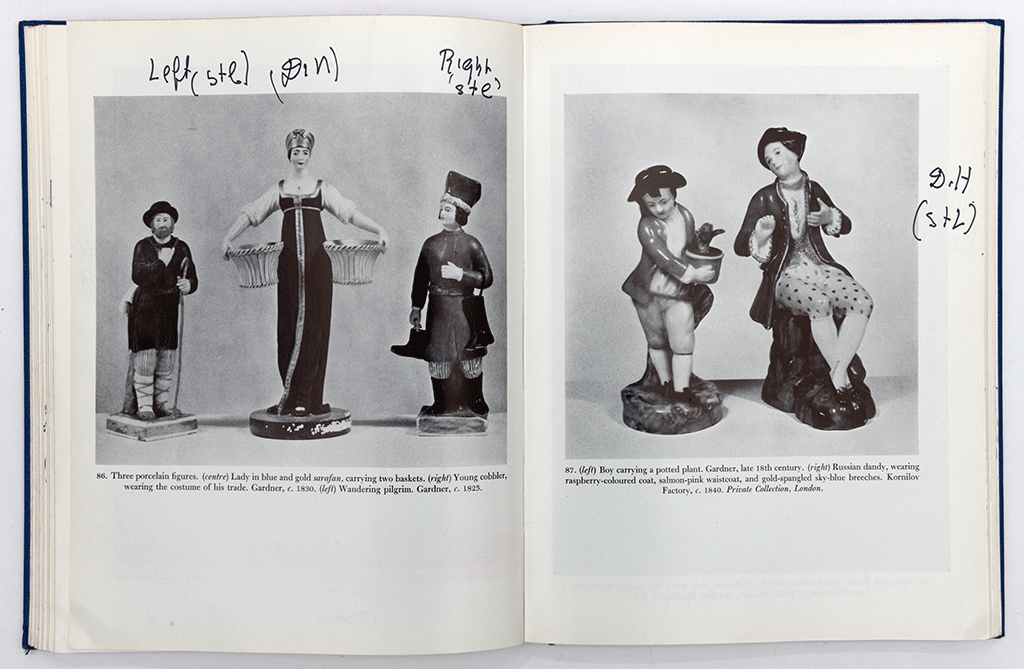 Although the manufacturer of Woman with Baskets is unknown, it was listed as an English object in one article which leads me to think it had likely been created by the Russian-English Gardner Factory. This manufacturer was one of the most popular in eighteenth-century Russia, and its makers, according to Hare, excelled at 'expressive modelling and balanced sculptural poise' and 'together with a bold and brilliant range of colour compositions' created unique porcelain figurines.[6] In my opinion, Woman with Baskets expresses these skills well, and the sarafan, which seems the same as those depicted for the vodonoska figurines, has, in my opinion, been executed well in the recovered piece. The strong, bold blue colour in this figure could be Lapis Lazuli expressing its exceptional quality. Lapis Lazuli and other rich colours such as malachite and emerald greens also became favourites amongst porcelain manufacturers, which express not only the quality of these figurines but it could also account for the decision to choose a blue dress for the vodonoska figurines.
Although very similar to the vodonoska figures, the stolen Dorich House example does not observe the standard aesthetic of the vodonoska, where buckets are carried using a yoke rather than baskets under her arms as seen in this example.[7] For this reason, we cannot attribute her as being a vodonoska, and she will instead remain the Woman with Baskets. Yet, I am fascinated by the similarities between Dorich House's Woman with Baskets and the Russian Figurine of a Water Carrier, whose headdress, pose, facial expression and even dress detailing share such a likeness.
Carley Bucknell
Published as part of the project The Squatter Years: Recovering Dorich House Museum's Recent Past, funded by the National Lottery Heritage Fund, January 2021.
---
[1] Inventory of burgled contents made by the New Scotland Yard Police Antiques Investigation Branch, 1988.
[2] https://www.dorichhousemuseum.org.uk/2016/03/25/russian-figurine-of-a-water-carrier/.
[3] 'Ensemble, 19th century, Russian', The Metropolitan Museum of Art, https://www.metmuseum.org/art/collection/search/157135. More examples of dairymaid figurines can be seen here.
[4] Richard Hare, The Art and Artists of Russia (London: Methuen & Co., 1965), p.142.
[5] Hare, The Art and Artists of Russia, p.142.
[6] Hare, The Art and Artists of Russia, p.150.
[7] An Important Collection of Porcelain Figurines. Private Russian Manufactories, MacDougall's, London, 25 March 2015, p.42, https://docplayer.net/45259592-Russian-art-an-important-collection-of-porcelain-figurines-private-russian-manufactories-macdougall-s-russian-art-25-march-2015-london.html.